2.5W/5.5Wは彫刻に使用できます。
可燃性の材料:木材、紙、プラスチック、革、竹、骨、象牙、角、ゴム、アクリル、貝殻、ひょうたんなど、火によって燃やされることができる材料。
金属材料:一般的なスプレーペイントや塗料で塗られた金属材料。
2.5Wのレーザーは、木材などの厚さ1mmの材料、革、クラフト紙、不織布、フェルトなどの厚さ1mmの材料を切断することができます。
ワンストップ人工知能教育プラットフォーム
ultraArmは、コンパクトなデスクトップ用ロボットアームです。クラシックな金属構造で設計されており、A5サイズのスペースしか占有しません。高性能ステッパーモーターを搭載しており、±0.1mmの繰り返し位置決め精度と高い安定性を持っています。ultraArmは、精密な書き込みや描画、レーザー彫刻を実現し、スライドレール、コンベアベルト、myAGV、カメラなどの複数のアクセサリーと自由に組み合わせることができます。さまざまな実践的なトレーニングプロジェクトを異なるニーズに応じて完了させることができ、高等教育、科学研究、職業教育など多くの分野で広く活用されています。

ビジョン教育キット
これらのキットはオープンソースのAIアルゴリズムで構成され、関連する教育アプリケーションシナリオをサポートします。スライドレールやコンベアベルト上での物体の識別や分類が可能です。静的ビジョンまたはダイナミックビジョンのさまざまなセットがあり、ユーザーが迅速に始めるのに役立つワンストッププラットフォームです。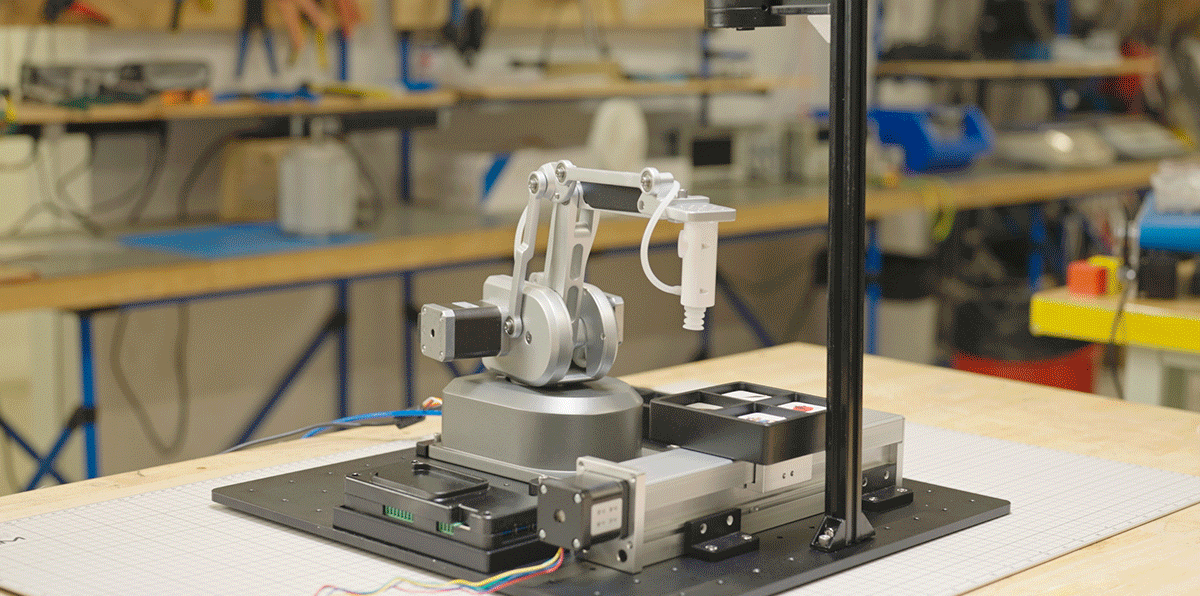 ビジョン教育キット
何が学べるのですか?
Palletizing robot control principle
Use of end-effector
AI machine vision
Smart factory knowledge
Automatic sorting
Dynamic vision identification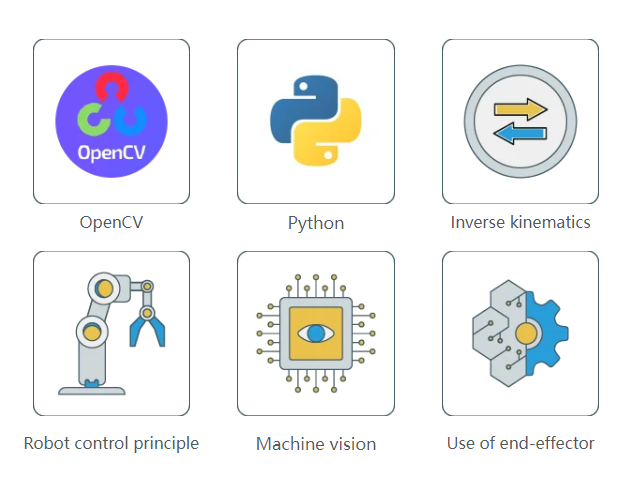 DIYキット、何が手に入りますか?
操作プレート、ペンクリップ、レーザー彫刻ヘッドを備えた視覚化ソフトウェア内のワンクリックトラック生成です。ユーザーはオンラインでの製作、ネームプレートや携帯ケースのDIY製作、AIによる描画など、温かいひとときを楽しむことができます。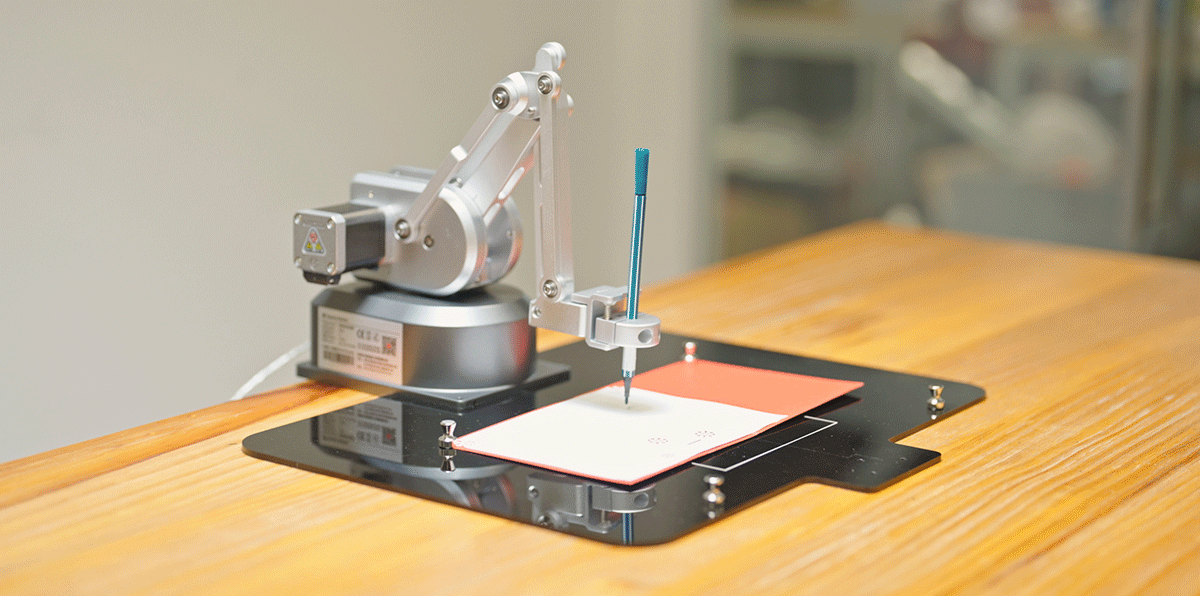 製品の特徴
UltraArmはコンパクトで頑丈な金属構造を持っています。340mmの作業半径、650gの荷重能力を持ち、小さながらも強力です。UltraArmはさまざまなアプリケーションを実現するのに役立ちます。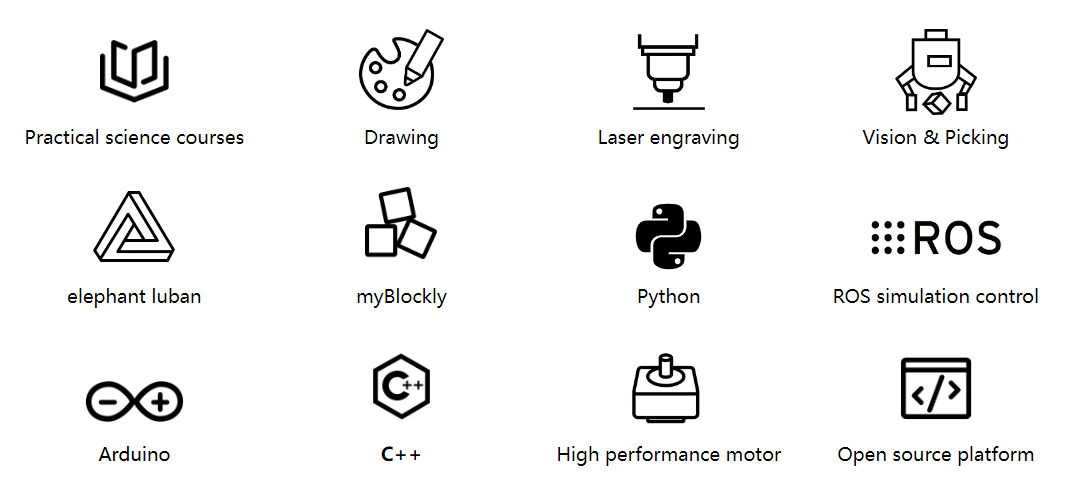 豊富なインターフェースは、異なる制御ニーズを満たし、アイデアを実現するのに役立ちます。

レーザー彫刻、適応型グリッパーと吸引ポンプのためのインターフェース、そしてバーニングスイッチなどが統合されたデザイン。UltraArmは、実践的な演習の学習体験を向上させるために、ユーザーが簡単に機能を切り替えることを支援します。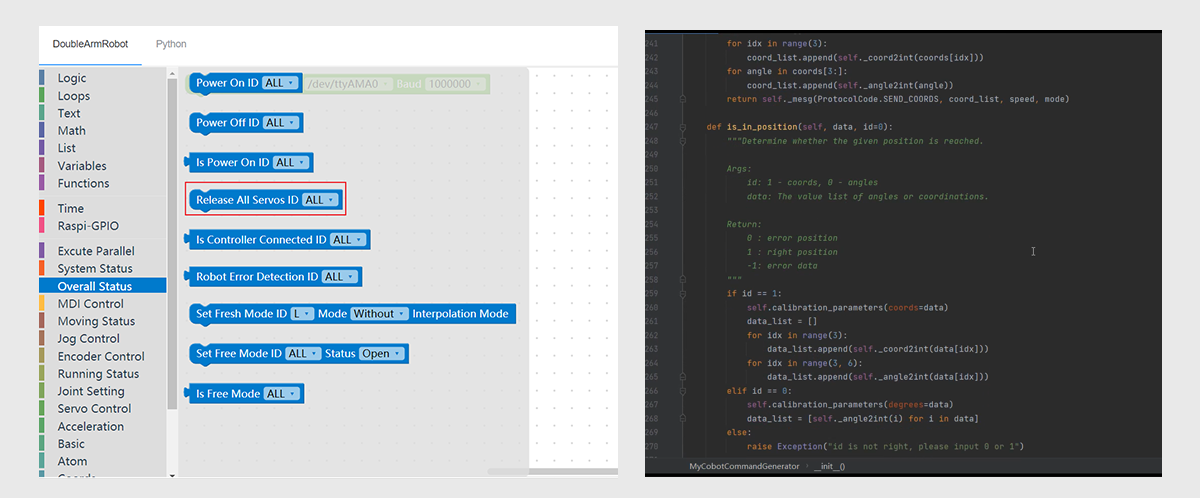 MYBLOCKLY
myBlocklyは、ドラッグアンドドロップのプログラミング視覚化ソフトウェアです。これは、ユーザーがコードブロックや他のビジュアルな手がかりをドラッグアンドドロップすることによって、テキストベースのコードを手動で記述する代わりに、プログラミングを容易にする基本的な技術です。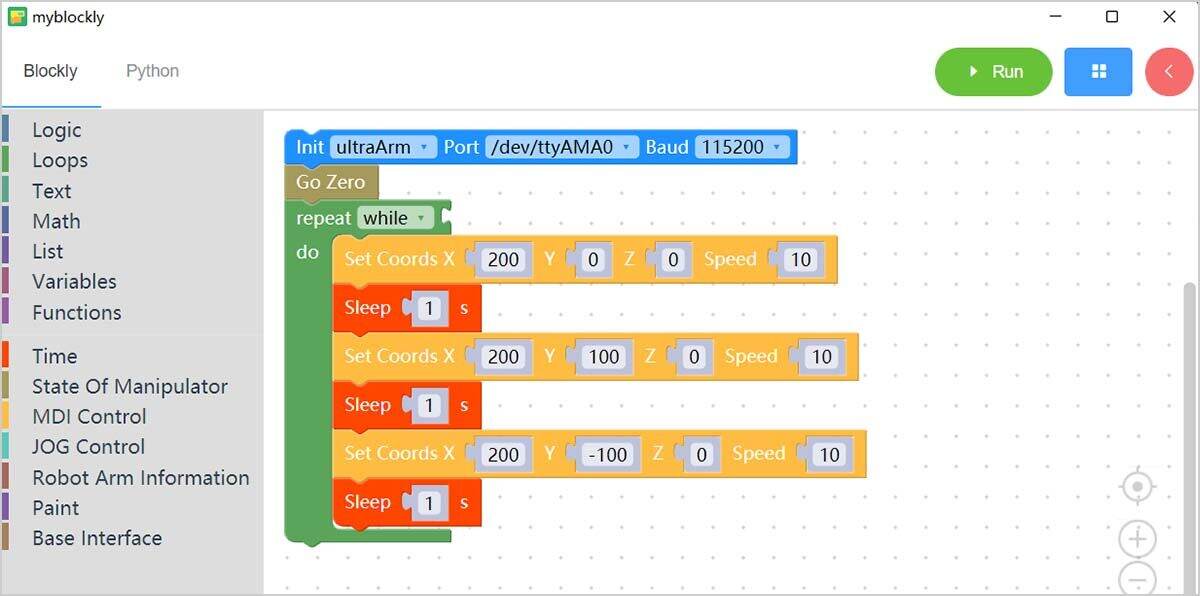 ROS1およびROS2のシミュレーション制御がサポートされています。
グローバルな主流のロボットコミュニケーションフレームワークであるROSを基にして、ultraArmは仮想環境での制御やアルゴリズムの検証をサポートしており、実験環境の要件を低減し、実験の効率を向上させることができます。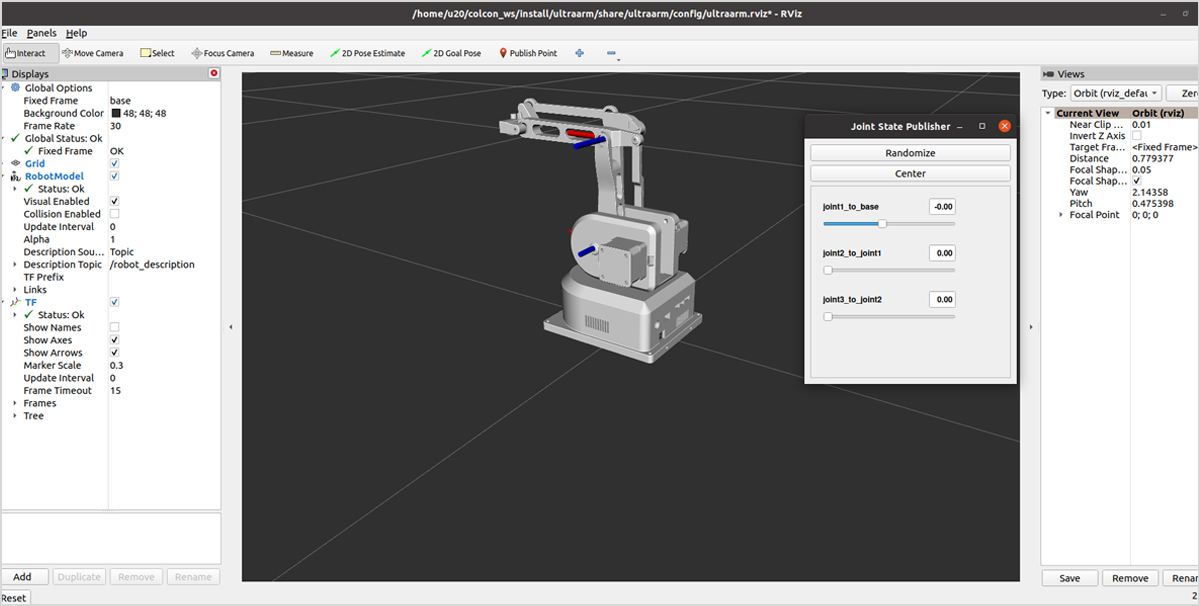 エレファント魯班(Elephant Luban)は、G-Codeトラックを生成し、ユーザーに基本的なケースを提供するプラットフォームです。ユーザーは、正確な書き込みや描画、レーザー彫刻などを含む複数の機能を選択することができます。
Love the ease of use.
The user interface looks very nice. As for beginner usage, this is my first use in Laser Engraving, and it gave me a good using experience.
Impressive printer!
Excellent printer, strong and impressive print quality, and the tool kit for laser make this printer the ideal ally for all, from rookies to expert entrepreneurs.
Great purchase. I like it so far.
After waiting a few weeks, I got it in a well-packed package. The complete documents and video tutorials on YouTube helpes me a lot. I use the Laser Engraving Kit regularly, it is a good product with a unique design.
Responsive support team
The robot could not work when I received it, but with the help of technical staff, I fixed it, and now it works.
Returns Policy
Our policy lasts 7 days. If 7 days have passed since your purchase, unfortunately, we can't offer you a refund or exchange. To be eligible for a return, your item must be unused and in the same condition, you received it. It must also be in the original packaging.
Warranty
Return service is limited to goods not opened within 7 days after the receipt date of logistics of the products. The freight or other risks incurred in return shall be borne by the customer.
Customers should provide the purchasing invoice and warranty card as the warranty certification when a warranty is being asked.
Elephant Robotics will be responsible for the hardware faults of products caused by normal use during the warranty period.
The warranty period starts from the date of purchase or the receipt date of the logistics.
The faulty parts from the products will be owned by Elephant Robotics, and the appropriate cost will be charged if necessary.
If you need to apply for warranty service, please contact our customer service first to confirm the detailed information.
During the warranty period of the delivered product, the company only repairs the malfunctions that occur during the normal use of the robot for free. However, in the following cases, the customer will be charged for repairs (even during the warranty period):
Damage or malfunction caused by incorrect use and improper use different from the contents of the manual.
Failure caused by unauthorized disassembly by the customer.
Damage caused by improper adjustment or unauthorized repairs.
Damage caused by natural disasters such as earthquakes and floods.
| | |
| --- | --- |
| Warranty Period | Warranty Services |
| ≤12 months | Elephant Robotics offers one free new part. The customer will bear shipping costs. |
| ≥12 months | Customers have to pay for the repair. |
Delivery
The products shall be delivered by International Express within 15 working days.
Please make sure to enter your shipping information in English to avoid possible existence in international logistics.
Email: info@elephantrobotics.com
Specifications
Model
ultraArm P340
DOF
3-4
Payload
650g
Repeatability
340mm
Positioning Accuracy
±0.1mm
Weight
2.9kg
Working Lifespan
5000h
Input power
12V 5A
Joint rotation range
J1 -150° ~ +170°; J2 -20° ~ 90°; J3 -5° ~ 75°
Noise
60 dB
Maximum terminal velocity
100mm/s
Base port
Laser engraving interface adaptive claw interface suction pump interface burning switch
Power supply adapter
100-240VAC 50-60Hz
Installation Mode
Horizontal Desktop Installation
Power module
High performance stepper motor
Method of programming
Elephant Ruban,Graphical programming myBlockly,Python
Operating temperature
0°~45°
Working environment humidity
5%-80%
Velocity of joint
J1 100°/S; J2 100°/S; J3 100°/S
Q1: Does it support secondary development?
A1: Yes. You can use our API (Python、C++、C#、Javascript) to control ultraArm.
Q2: What can I learn with ultraArm?
A2:
With ultraArm P340 , you can learn:
Hardware: Embedded Microcontroller, Motor control, servo control, robotic arm control, etc.
Software: Arduino, myBlockly, Elephant Luban, C++, Python, ROS,Vision & Picking, etc.
Q3: What about its working time?
A3: It uses adapter power instead of battery power. It can work 24/7 with power supply. But we don't suggest keeping it working for a long time.
Q4: What about its payload?
A4:Net weight:2.9kg. Payload: 650g. Working radius: 340mm
Q5: What about the after-sale service?
A5: We offer returns and warranties for our customers. Returns services are limited to goods that have not been unpacked within 7 days of the date of signing for the goods logistics. Shipping costs or other risks arising from returns are borne by the customer. During the warranty period of the delivered product, the Company will only repair the robot free of charge for failures that occur during normal use. For more information on the warranty, please see the product details page.
Q6: When will the product be shipped after I place the order? And what about the shipping ways?
A6:We ship worldwide and we use FedEx, UPS and DHL. The products will be delivered by International Express within 15 working days. All products use standard cartons and special customized super hard paper shells to firmly fix the products and prevent damage from impact.
Q7: I don't know how to develop robotic arm. Is there a graphical page for operations?
A7:For non-technical users, we provide a one-stop visual graphical page to help you program the robotic arm easily.
Q8: What about the repeated positioning accuracy?
A8: The repeated positioning accuracy of ultraArm P340 is ±0.1mm. The high performance stepper motors ensure high accuracy.
Q9: Is there a camera on the robotic arm? Can it achieve visual recognition sorting function?
A9:We have launched robotic kits for machine vision learning, which is equipped with cameras and related accessories.
Q10:Can you provide relevant information about the robotic arms of Elephant Robotics?
A10:
Our Product Introduction and User Manual Link is https://docs.elephantrobotics.com/docs/ultraArm-en
Github-development Link ( software tutorial ) is
ROS1: https://github.com/elephantrobotics/mycobot_ros/tree/noetic/ultraArm
ROS2: https://github.com/elephantrobotics/mycobot_ros2/tree/humble/ultraArm
Python:https://github.com/elephantrobotics/pymycobot
Software Download: https://www.elephantrobotics.com/download