Elephant Robotics showed amazing products at the 19th CHINA-ASEAN Expo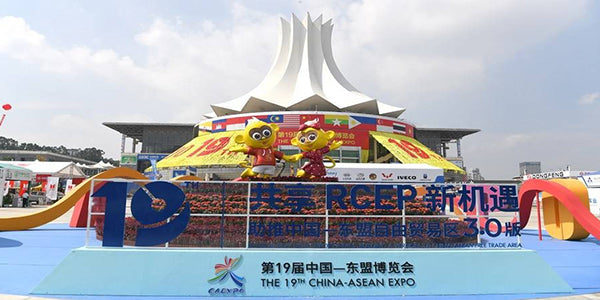 From 16th to 19th September 2022, the 19th China ASEAN Expo took place at Nanning, the capital city of Guangxi. China ASEAN Expo is an important link for China and ASEAN countries to strengthen cooperation with non-regional economies and integrate into global value chains. Since 2014, the Expo has set up a unique invited partner system. Many countries are invited as special partners to hold special economic and trade exchange activities every year. China ASEAN Expo is unique because it is one of the first-level exhibitions in China.
In the exhibition, the high-tech products brought by the exhibitors show the characteristics of advanced environmental protection and are close to life. As one of the exhibitors, Elephant Robotics showed the mainstream products, including myCobot 280, metaCat, and MarsCat. Many visitors from ASEAN countries were attracted to the stand to visit and try the products.
As the star product from Elephant Robotics, myCobot 280 is an open-source robotic arm with a 250g payload. It is an ideal platform for learning ROS, V-rep, myBlockly, Matlab, CAN, and 485 bus-mastering control. Many university professors worldwide came to the stand to learn more about this collaborative robotic arm. After the team explained, most of them ordered instantly because they believed that myCobot could help them in education.
metaCat has high simulation fur and smooth and friendly skin as a lifelike robotic pet cat. With AI support, metaCat can interact with people like a real animal, and it is the solution for people who like cats but are allergic to wool.
The most popular product at China ASEAN Expo is the MarsCat. MarsCat is the first realistic robotic cat in the world powered by AI. The 16 motor joints, multiple sensors, and cameras make it can communicate with people through images, register touch, recognize faces and play with toys. Also, it can meow and change the eyes' status when we touch it or call its name. Moreover, the built-in Raspberry Pi system and AI habit-building algorithms provide MarsCat with an autonomous living system, so it can move like a real animal instead of a robotic cat that can only receive and execute commands. Now MarsCat has been reported in the official newspaper and online reports.
At this expo, Elephant Robotics has shown unique robotic products and projects to visitors from ASEAN countries, and more people know and highly commend the brand and products. The company has contributed to the participation of China and ASEAN countries in international economic cooperation, thus increasing their influence worldwide.