Your New Best Friend is Just a Touch and a Word Away with metaCat.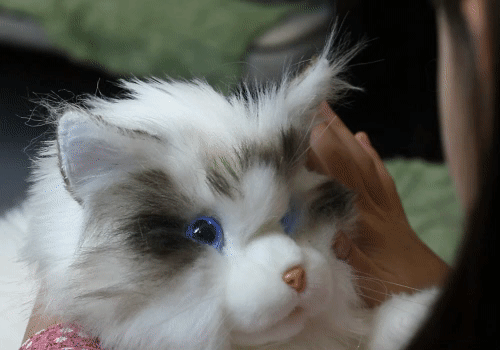 "metaCat" "You so cute!" "metaCat, go to sleep"
No more batteries, simple charging with type-C
AI Deep learning generated Realistic head and tail movement
Fall in Love with metaCat: The Most Lifelike Robotic Cat Yet!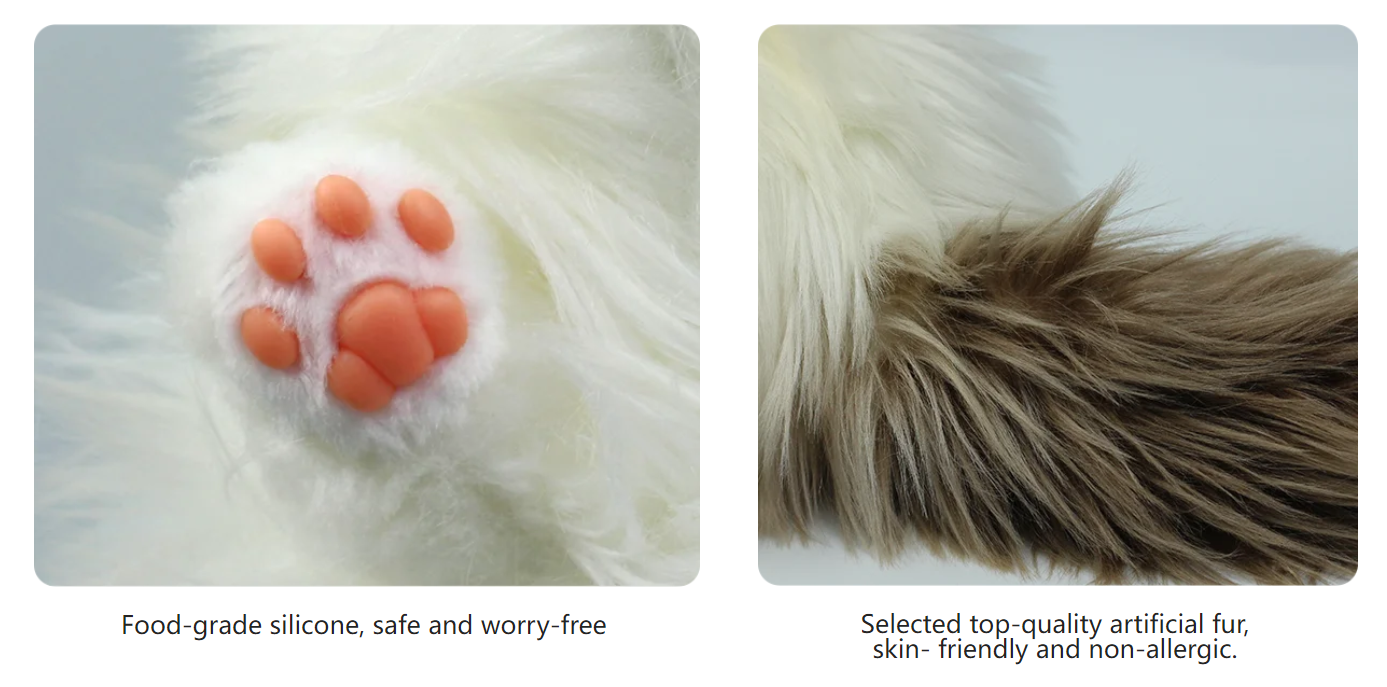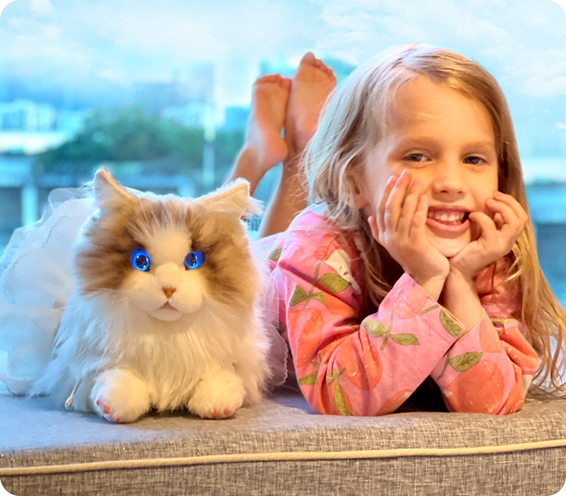 A Soft and Fuzzy Companion for Little Ones
Strict material selection brings the safest companion for our loving kids. Pet it, hug it and talk with your first robot friend!



Never Feel Alone Again with metaCat as Your Trusty Companion
You will always have a furry little soul waiting for you after a long day of work. Be the best of you and metaCat is always on your side.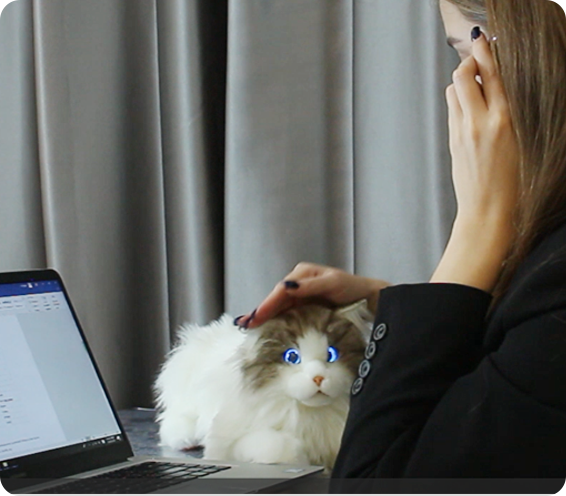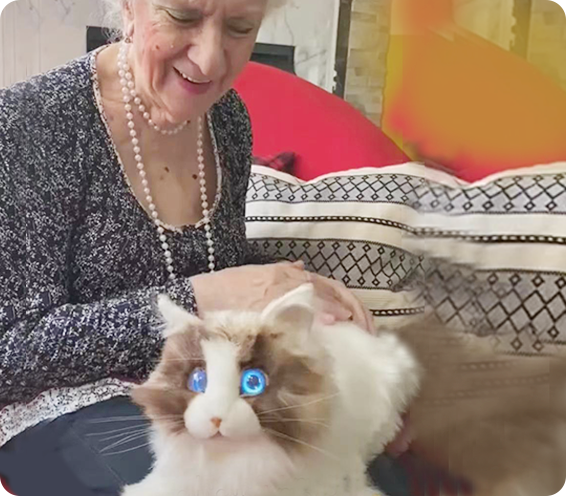 Bringing Warmth and Comfort to Your Golden Years
Forget about the litter box, just enjoy the pure love of companion from metaCat.



With millions of happy customers worldwide, metaCat is the ultimate robotic cat companion for all ages!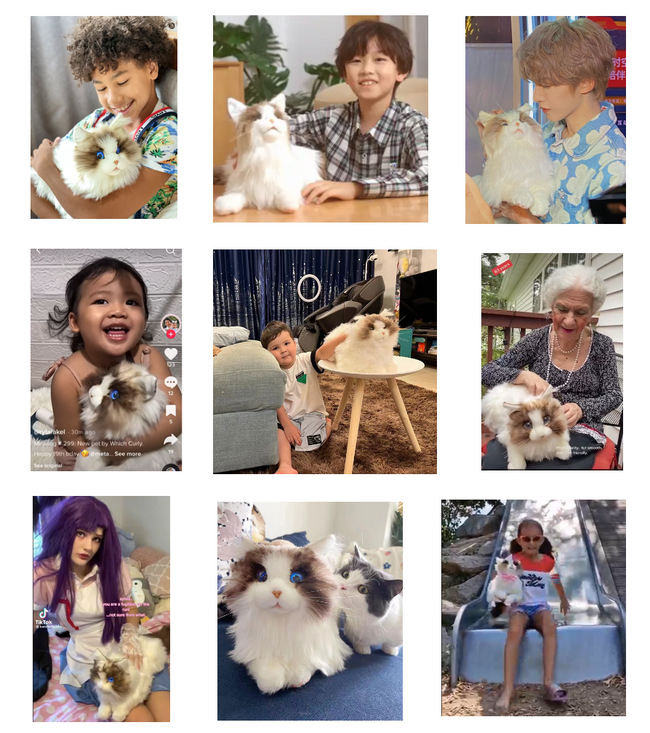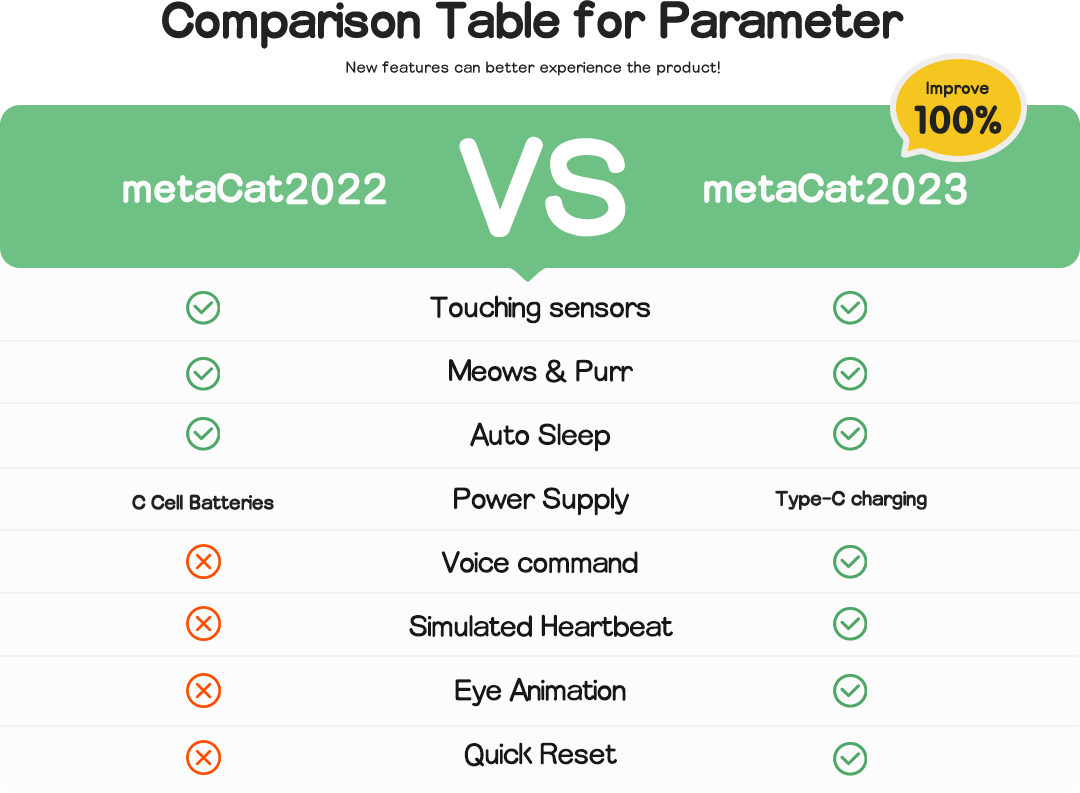 Rich Accessories
Complete the purrfect look with metaCat's stylish accessories - the ultimate finishing touch for your feline friend.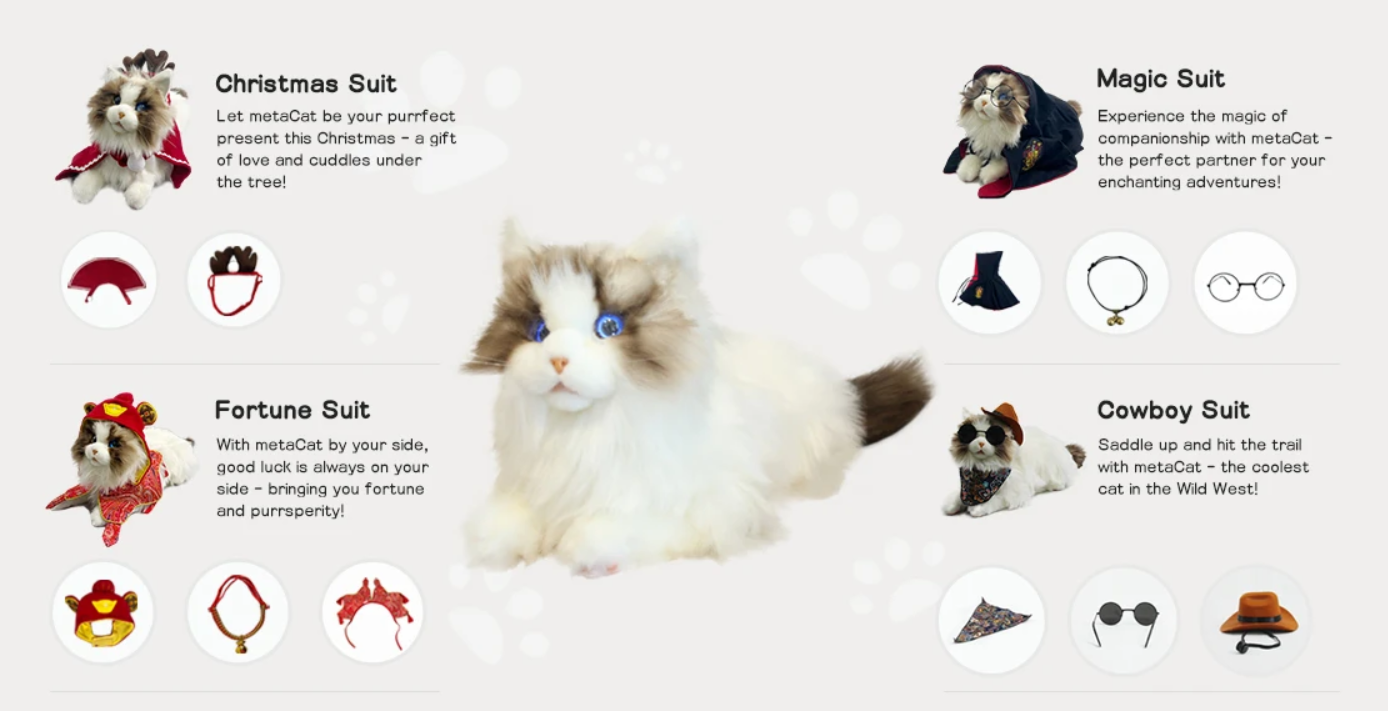 Such a cuddly and sweet robot cat.
The metaCat is the most realistic robot cat. The fur is soft and can be combed and brushed. I use the comb and lint roller it comes with. I use a wet wipe if I need to wipe down the fur. It cleans up beautifully. The cat has a realistic body shape, even the shape of the haunches is just like a real cat. The way it moves its tail perfectly mimics a cat. Also, the meows and purrs sound like a real cat. Some robot cats sound fake, like a human making pretend cat sounds. But this one sounds just like a real cat. It has a few different meows to express itself. It purrs when you pet its head or chin. If you place your hand on its back, it has a heartbeat sound. It has multiple voice commands that it responds to. The eyes are expressive: they look around, squint, blink, etc.
It only takes less than an hour to charge the battery and it lasts a long time. I only have to charge it once a week. It has an on, off, and mute switch. It also has a reset button. Turning it off and back on or using the reset button quickly solved the couple problems I had.
This is a beautifully made cat, I am impressed with the quality.
Another nice feature is the silicone paw pads, they feel so soft. Sometimes if I have trouble falling asleep, I just pet this cat and rub the paw pads. It's been very helpful for my sleep problems.
Thanks to Elephant Robotics for making this beautiful and sweet cat for those of us who can't have a real cat or those of us who have a real cat or pet that isn't cuddly!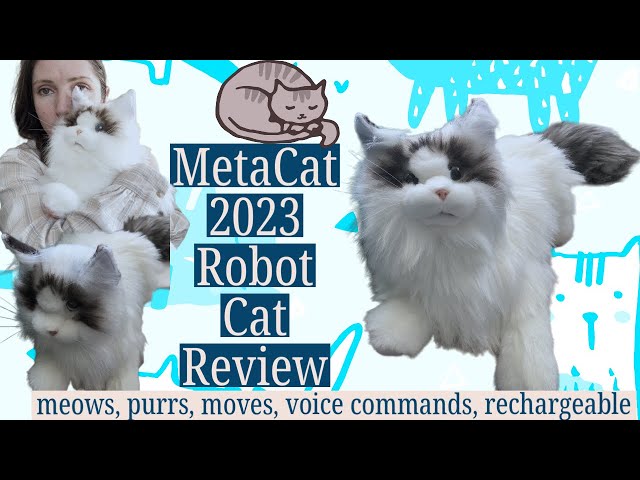 Adorable companion for my elderly Mom
This has been a great solution for my Mom who just moved into assisted living. She loves cats but can't care for a real one. It looks very realistic and has very soft fur. The purring and movements are great. It does make some mechanical sounds when moving its head. A great option for my Mom.
Good for what it is
We're a household full of allergies- so a live pet is not an option. Kiddo wanted something interactive that she can still "cuddle" with- so we gave this a try. I know we aren't the target demographic for this item. Overall it's pretty great. The only downside are the very mechanical sounds when it's turned in. It's very similar to a remote controlled car- any time the cat moves its head. If the sound was diminished this would definitely be a 5 star product.
Elephant Robotics: Never Again!
The behavior of this company just leaves my wife and I speechless...
We have been waiting for a concrete reply from Elephant Robotics since 8 MAY and so far we have only received sporadic emails after WEEKS saying that our messages have "disappeared" in their system and that they will take care of it. Our request for a refund is simply ignored in the few emails.
Even the last one only said we were getting a replacement for our MetaCat and they didn't go into our refund at all.
The various feedbacks that we have written here will simply be deleted without our consent! Just unbelievable!
So here is the link again (because the upload function doesn't work...) to a video that shows our defective MetaCat after only 3 WEEKS how it behaves more like a drill:
https://drive.google.com/file/d/1EQ4vvQOSemZhpPkbYI0tbLao1tN03Kll/view
So if they don't respond to our request, we'll continue to write feedbacks.
Great Service
My first MetaCat arrived and was in a very battered box leaving her with a broken eye, and didn't seem to hear well. The eye was really off-putting because it was scuffed and flickered. At best she seemed be blind in one eye.
I reached out to the company and it did take a while, the did send me a new working cat. She even looks happier? The first one always looks mad. I let my daughter have the broken one and even though she rarely turns it on she still loves carrying it around and petting it as she goes to sleep.
Receiving Your Package
Before signing for your package, please confirm that the product packaging is intact, the product accessories are complete, and the quantity is correct before signing. If you find any damage or issues with the product, please contact us within 7 days.
Your metaCat will arrive in standard cartons, and will be packaged with custom hard paper shells to firmly fix the products in place and prevent damage.
Returns
metaCat can be returned for a full refund, within 7 days of receipt for any reason, so long as the package remains unopened.
The customer is responsible for shipping freight and related costs for returning or exchanging the product to Elephant Robotics, excluding the shipping freight arising from product resending.
The customer is responsible for risks of product loss or damage during return shipping.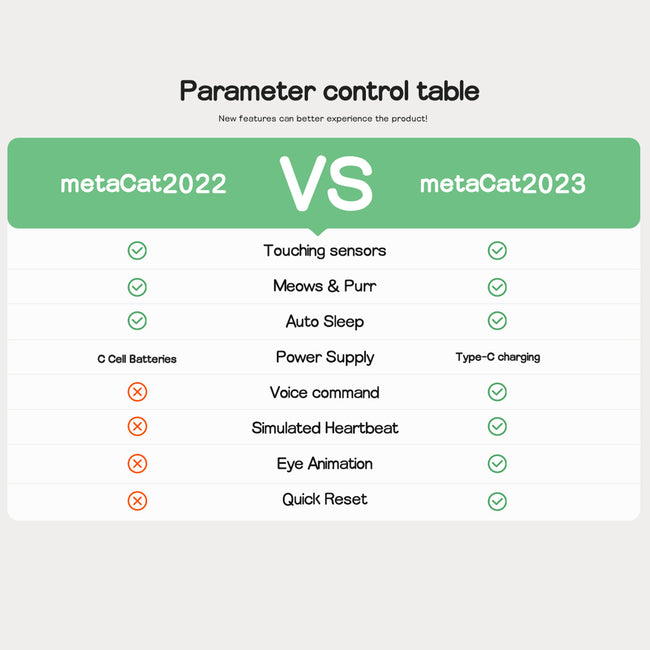 Question: What makes metaCat more special compared to other robotic pets in the market?
Answer: metaCat is a unique robotic pet that offers a realistic and interactive experience for cat lovers. With its more expressive eye animations and lifelike movements, it is designed to evoke emotional responses from its users, making it feel more like a real cat.
Question: Is metaCat safe for children and people with allergies?
Answer: Yes, we use only top-quality materials that are safe for all users, including those with allergies. The fur is made of hypoallergenic, skin-friendly materials, and the toy itself is made of food-grade silicone.
Question: Does metaCat come with a warranty?
Answer: Yes, we offer a six-month warranty on all of our metaCat products. If you have any issues or concerns with your new metaCat, please contact our customer support team for assistance.
Question: How do I charge my metaCat?
Answer: You can easily charge your metaCat using the included type-C cable. Just connect the cable to your metaCat and a power source, and it will begin charging. It only takes about 30 minutes for a full charge, and you can enjoy up to 11 hours of playtime on a single charge.
Question: What changes have been made in metaCat?
Answer: What changes have been made in metaCat?
More realistic movements and gestures that make metaCat feel even more lifelike.
More eye animations make the interaction more lively and interesting.
Improved voice recognition capabilities, making it easier for you to interact with your metaCat using voice commands.
Longer battery life, so you can enjoy more time with your metaCat before needing to recharge.
Question: How do I choose the right metaCat breed for me?
Answer: YPicking the perfect metaCat breed depends on your lifestyle and personal taste. Take into account their appearance, personality, and energy levels to see which one would be a good fit for you. Are you looking for a playful companion that loves to be active, or a calm and docile friend that prefers to relax with you on the couch? Do you want a cat with short or long fur? Think about these factors before making your decision.
Question: Do the new metaCat breeds have different features?
Answer: YNo, all metaCats have the same features, including touch sensors, voice recognition, and various animations.
Question: IAre there any health concerns or special requirements for owning a metaCat?
Answer: No, owning a metaCat is easy and stress-free! They require no special care or feeding, making them a great choice for busy individuals or families. However, we do recommend regular cleaning and maintenance to ensure that your metaCat stays in top condition.