ARTIFICIAL INTELLIGENCE EDUCATION PLATFORM
The myCobot 320 AI Kit 2023 edition is an entry-level AI package that integrates positioning, automatic sorting, and object grasping modules. It features 5 major visual recognition algorithms, 7 application scenarios, and 2 gripping methods. With a maximum payload of 1kg, it is compatible with M5 and PI adapters for versatile robotic arm compatibility. It offers 8 learning points and supports visualization software.

Built on the Python platform, it allows for software development to control the robotic arm. It is user-friendly and enables quick learning of AI fundamentals, inspiring innovative thinking and embracing open-source creative culture.
5 MAJOR VISUAL ALGORITHMS 7 MAJOR APPLICATION SCENARIOS
AI kit has 5 built-in main visual recognition algorithms and users can use different colored wooden blocks and different shaped cards for the recognition function. Also, users can use 4 types of QR CODE recognition to learn the relationship between 2D and 3D. Feature point recognition helps users learn to understand image segmentation and features and learn YOLOv5 algorithm quickly.
COMPATIBLE FOR 2 TYPES OF END EFFECTORS
It is compatible with 6 robotic arms of Elephant Robotics, supports M5Stack and Raspberry Pi versions.
Vision education kit
What can you learn?
OpenCV
Python
ROS
Inverse kinematics
Hand-eye calibration
Robot vision
Robot control principle
End-effector use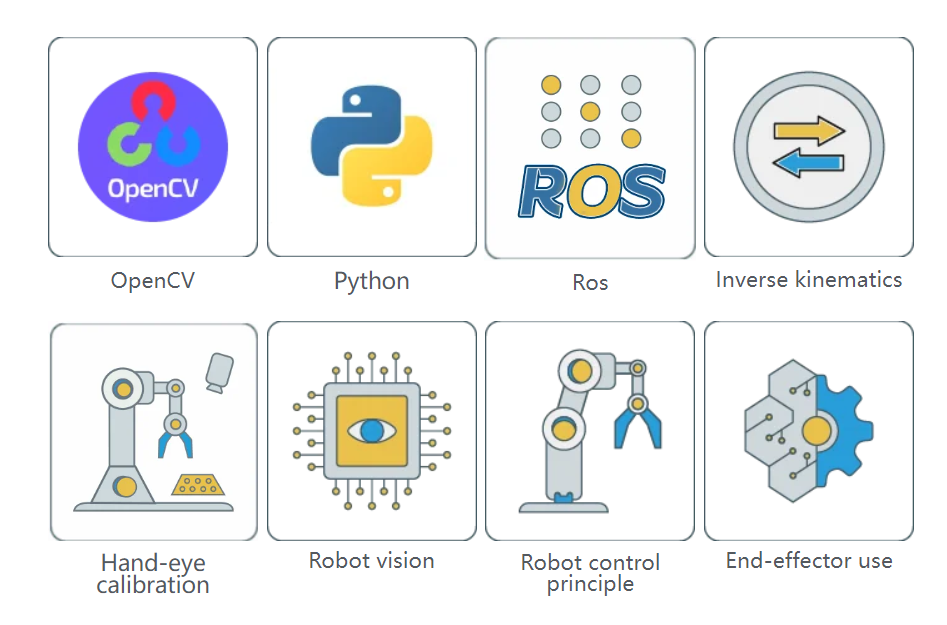 KIT COMPONENTS
The Artificial Intelligence Kit 2023 supports visual software operation, provides customized and simple operation methods. Users can quickly start the artificial intelligence learning journey.

Enriching Robotics Education in Universities
The myCobot 320 AI Kit enriches the robotics education experience in universities. Its comprehensive features and capabilities allow students to gain practical skills and knowledge in the field of robotics. With its wide range of vision recognition algorithms and application scenarios, students can explore various real-world applications and challenges. The kit's adaptability and compatibility with different adapters provide flexibility for integrating it into existing university setups. It encourages students to think critically, solve problems, and develop innovative solutions, preparing them for the ever-evolving world of technology.
Enhancing Research and Innovation in Higher Education
The myCobot 320 AI Kit plays a crucial role in enhancing research and innovation within the higher education setting. Its advanced features and versatility make it an invaluable asset for students and faculty alike. With its diverse range of vision recognition algorithms and application scenarios, it provides a platform for exploring cutting-edge concepts in robotics and AI. The kit's compatibility with various adapters and its ability to handle a 1KG payload empower users to undertake complex projects and experiments. It fosters a culture of creativity, collaboration, and academic excellence within the university.
An Exciting Journey into the World of Robotics
The myCobot 320 AI Kit has taken me on an exciting journey into the captivating world of robotics. It has become an integral part of my personal exploration and experimentation. The kit's user-friendly interface and accessible controls make it easy to learn and operate. With its diverse set of vision recognition algorithms and application scenarios, I have been able to dive into different aspects of robotics, from object detection to task automation. The kit's compact design and compatibility with various adapters allow for seamless integration into my projects. It's a gateway to endless possibilities and continuous learning.
Unleashing Creativity in Personal Robotics Projects
The myCobot 320 AI Kit has been a game-changer in my personal robotics projects. Its versatility and ease of use make it an ideal companion for unleashing creativity. With its diverse range of vision recognition algorithms and application scenarios, I can explore various innovative ideas and bring them to life. The kit's adaptability to different adapters and the impressive 1KG payload capacity offer flexibility in tackling different project requirements. Whether I'm working on automation tasks, pick-and-place operations, or simply learning new concepts, this kit never fails to inspire and drive my passion for robotics.
Empowering Research and Development in Robotics
The myCobot 320 AI Kit is a powerful tool that empowers research and development in the field of robotics. Its advanced features, including the 5 vision recognition algorithms and 7 application scenarios, provide a solid foundation for conducting cutting-edge experiments. With its compatibility with M5 and PI adapters, the kit seamlessly integrates into our existing lab infrastructure. The 1KG payload capacity and versatile gripping methods enable us to undertake complex tasks with ease. This kit is an indispensable asset for driving innovation and pushing the boundaries of robotics research.
Returns Policy
Our policy lasts 7 days. If 7 days have gone by since your purchase, unfortunately we can't offer you a refund or exchange.To be eligible for a return, your item must be unused and in the same condition that you received it. It must also be in the original packaging.
Package&Shipping
All products use standard cartons and special customized super hard paper shells to firmly fix the products and prevent damage from impact.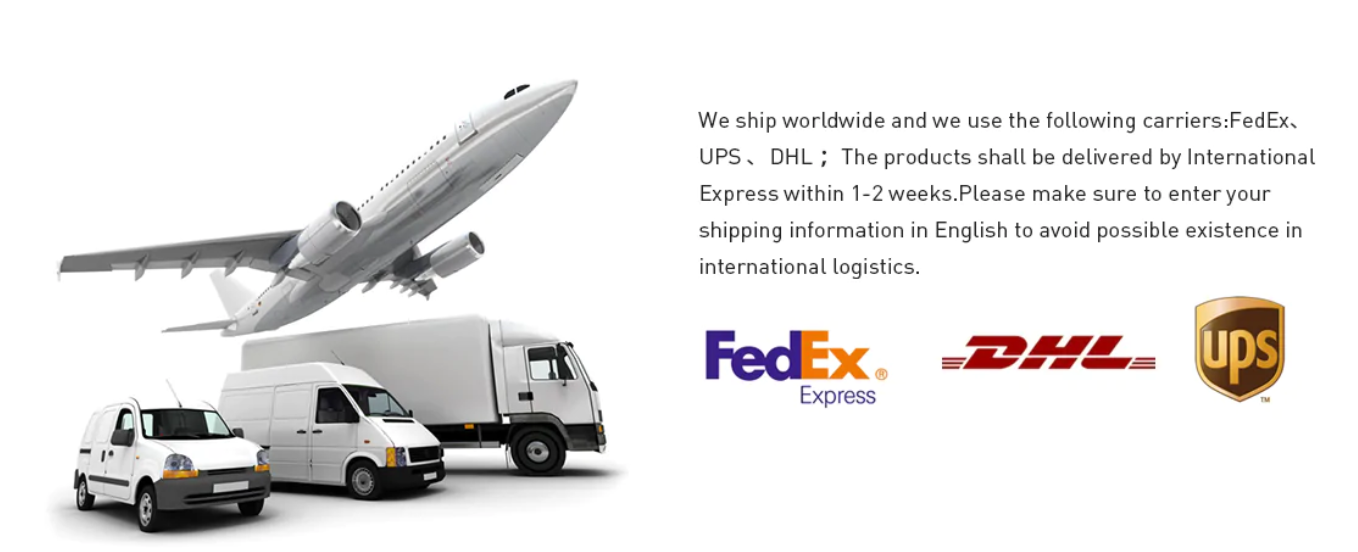 | | | |
| --- | --- | --- |
| Product name |   AI Kit | AI kit 2023 |
| Color recognition | √ | √ |
| Shape recognition | | √ |
| AR code recognition | | √ |
| Feature point recognition | √ | √ |
| YOLOv5 recognition | | √ |
| Visual positioning capture | √ | √ |
| automatic sorting | √ | √ |
| ROS | √ | √ |
| Python | | √ |
| Visualization software | | √ |
| | | |
| --- | --- | --- |
| Product name |   AI Kit | AI kit 2023 |
| Acrylic base | No screen print | With screen print |
| Robotic Arm Fixing Base | Only suitable for myCobot 280 | Universal base |
| USB Camera | 1 megapixel camera | 2 megapixel + fill light camera |
| Camera Bracket | Fiber tube | Aluminum extrusion stand |
| Suction Pump | Suction pump | Suction pump V2.0 |
| Other Parts | Material box + trash bins | Big and small bins |
| Packing Sponge | EVA sponge | Pearl sponge |
| | |
| --- | --- |
| Product name |   AI Kit 2023 |
| Total measurement | 500X400X405mm |
| Recognition speed | Color/shape/QR code: 300ms; Feature points: 600ms |
| Recognition accuracy | 3mm |
| camera name | USB distortion free camera |
| image pixels | 2M 1080p |
| Supported image formats | MJPG/YUY2 |
| pixel size | 3.0umx3.0um |
| Maximum frame rate | MJPG:1920*1080@30fps; YUV:1920*1080@30fps |
| USB protocol | Standard UVC protocol |
| Power supply | DC5V 90mA |
| Field of view | 110° no distortion |
| Lens focal length | 2.8mm |
| Supported system | Windows XP/7/8/10/VISTA/SEVEN/MAC LINUX(include uvc)/Raspberry Pi/Android 4.2+ |
Q1: What is the load of the myCobot 320 AI Kit 2023?
A1: Can meet most of your needs, the maximum load is 1000 grams.
Q2: Can the item recognition function really identify items?
A2: Yes, almost all items with rich feature points in life can be identified, which can truly meet your individual needs.
Q3: Is your code open source?
A3: Yes, the code is open source and supports secondary development.
Q4: What is its crawl range?
A4: The grabbing range of myCobot 320 is 350m.
Q5: Is there a corresponding usage tutorial?
A5: Not only has a complete tutorial, but also has a long-term online after-sales service to answer questions.
Q6: What can I learn with this kit?
A6: TWith AI Robot Kit , you can learn OpenCV, Python programming, ROS learning, inverse kinematics, hand-eye calibration, machine vision, robot control principles, end-effector use, etc.
Q7: What about its working time?
A7: The robotic arm in the kit uses adapter power instead of battery power. As long as there is power, it can always work. But we do not recommend letting it work for a long time. Just like you use a computer, it is better to let it take a break once in a while.
Q8: What about the after-sale service?
A8:
| | |
| --- | --- |
| Warranty Period | Warranty Services |
| ≤12 months | Elephant Robotics offers one free new part. The customer will bear shipping costs. |
| ≥12 months | Customers have to pay for the repair. |
Q9: When will the product be shipped after I place the order? And what about the shipping ways?
A9: We ship worldwide and we use the following carries: FedEX、UPS\DHL. The products shall be delivered by international express within 1-2 weeks and use standard cartons and special customized super hard paper shells to firmly fix the products and prevent damage from impact.