MarsCat is the world's first bionic pet cat developed by Elephant Robotics, aiming to be a home robot, a robotic pet to comfort you and surprise you. Just like a real cat, MarsCat is fully autonomous. No extra instruction is needed to control its movements.It is fully responsive and has sensitive interactions. It can feel your touch, hear your voice, see your face and play with toys. Every MarsCat is unique from its eyes, body to personality, its personality will change according to the way you pet it. With powerful quad-core Raspberry PI, you can also program it easily and give it endless possibilities.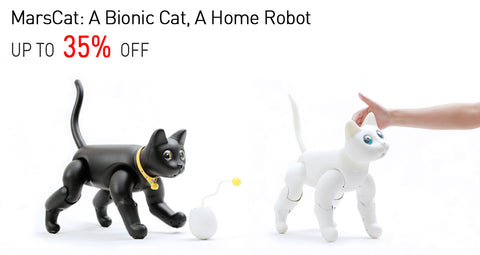 😍  💗  Special Price: 35% OFF (Expires till Oct.30)
   👀  💌  Estimated Shipping Time: November 
Main Features
 Bionic Design, Fully Autonomous Movement
You will never know what MarsCat will do next because it is like a real cat, fully autonomous. MarsCat acts independently without any instructions. MarsCat walks, runs, sleeps, sits, stretches, bites nails, kneads and even buries litter although she won't produce any waste.  MarsCat can even change itself when the battery is low.
 Human & Object Interaction, Perfect Companion
MarsCat is a good companion, it is fully responsive and interactive. It can play with you or your toys because it can feel, hear and see. Touch its head, chin or back to find out how it will react! It can also interact with objects or people nearby, even play with real cats.   
 Unique Personally, Change During the Interaction With People
MarsCat is unique from its eyes, body to personality. MarsCat has 6 characters which are consistently changing. She may be enthusiastic or aloof, energetic or lazy, socially or timid. Her personality develops through the way you pet her. 
MarsCat: Your Dream Robotic Pet Cat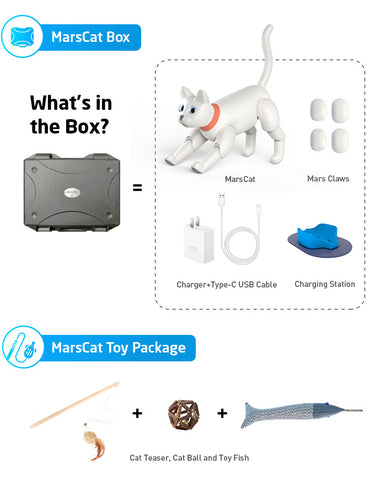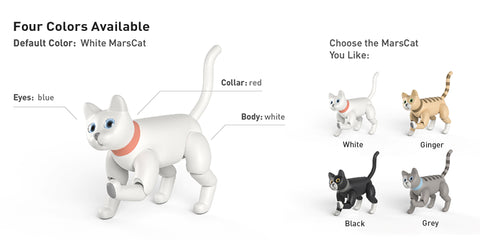 【We want to kindly remind you】
1. For quality and security reasons, we don't suggest you to replace the cover or joints of MarsCat by yourself.
2. Currently, MarsCat might need you to help it stand up again after it fell.
3. MarsCat haven't learned how to jump yet.
4. Auto recharge dose not success all the time, and it might your help.
5. Be careful to not get you finger clamped, and we don't encourage you to hold it while its moving.
6. If your MarsCat failed to function normally, please don't worry that we will be able to transplant its brain into another MarsCat.