2.5W/5.5W can be used for engraving
Combustible materials: wood, paper, plastic, leather, bamboo, bone, ivory, horn, rubber, acrylic, shells, gourds, and other materials that can be burned by fire.
Metal materials: metal materials painted with ordinary spray paint or paint.
A 2.5W laser can cut through 1mm thick materials such as wood, and 1mm thick materials including leather, kraft paper, non-woven fabric, and felt.
ONE-STOP ARTIFICIAL INTELLIGENCE EDUCATIONAL PLATFORM
ultraArm is a small desktop robotic arm. It is designed with classic metal structure and occupies only an area of A5 paper. It is equipped with high-performance stepper motors, and it owns ±0.1mm repeated positioning accuracy and high stability. UltraArm can achieve the precise writing and drawing, laser engraving, and can be freely matched with multiple accessories such as slide rail, conveyor belt, myAGV and cameras. It can complete different practical training projects according to different needs, and is widely used in many fields such as higher education, scientific research, vocational application education, etc.

VISION EDUCATION KITS
These kits compose of open source AI algorithm, support related teaching application scenarios, identifying and sorting objects, on slide rail or conveyor belt. There are a variety of sets with static vision or dynamic vision in a one-stop platform to help users get started quickly.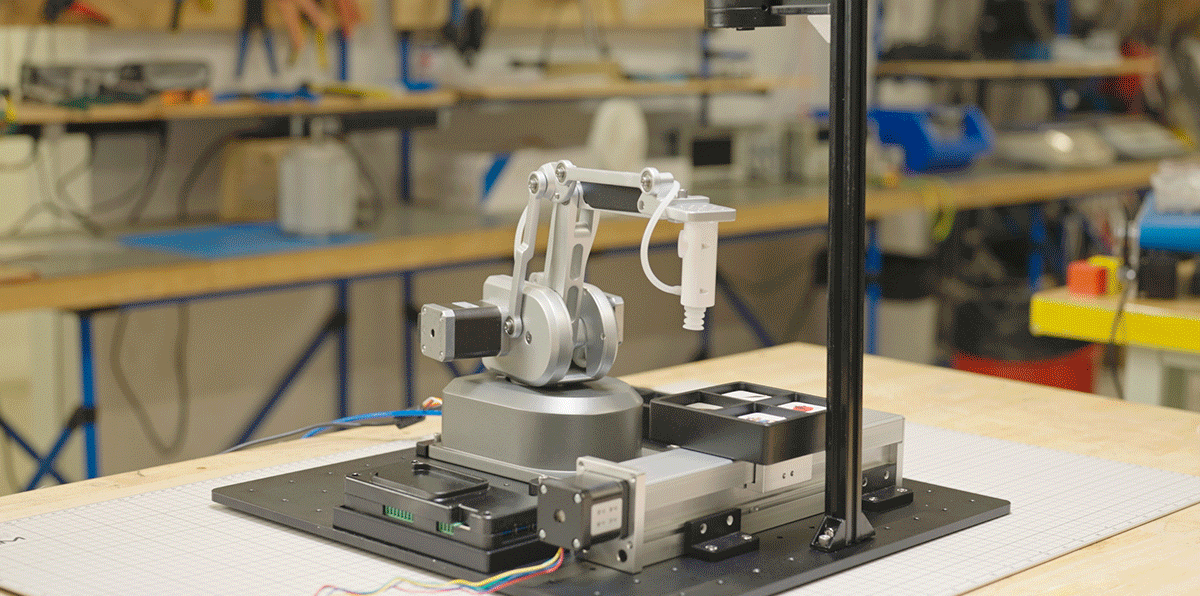 Vision education kits
What can you learn?
Palletizing robot control principle
Use of end-effector
AI machine vision
Smart factory knowledge
Automatic sorting
Dynamic vision identification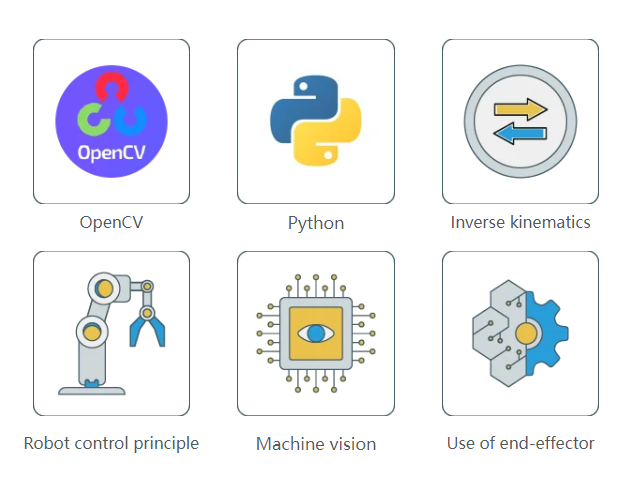 DIY KITS, WHAT WILL YOU GET?
This is a one-click track generation in visualization software with operation plate, pen clip, laser engraving head. Users will enjoy warm moments of online production, nameplate and phone case DIY production, AI drawing.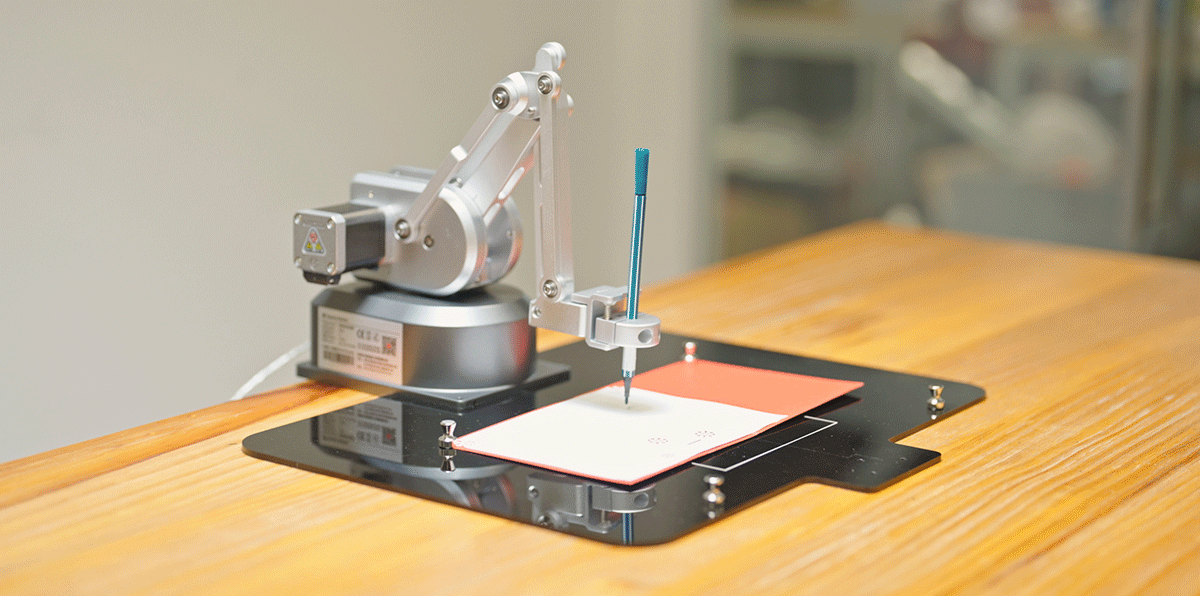 PRODUCT FEATURES
UltraArm is compact and tough with metal structure. 340mm working radius, 650g payload, small but powerful. ultraArm helps you achieve more applications.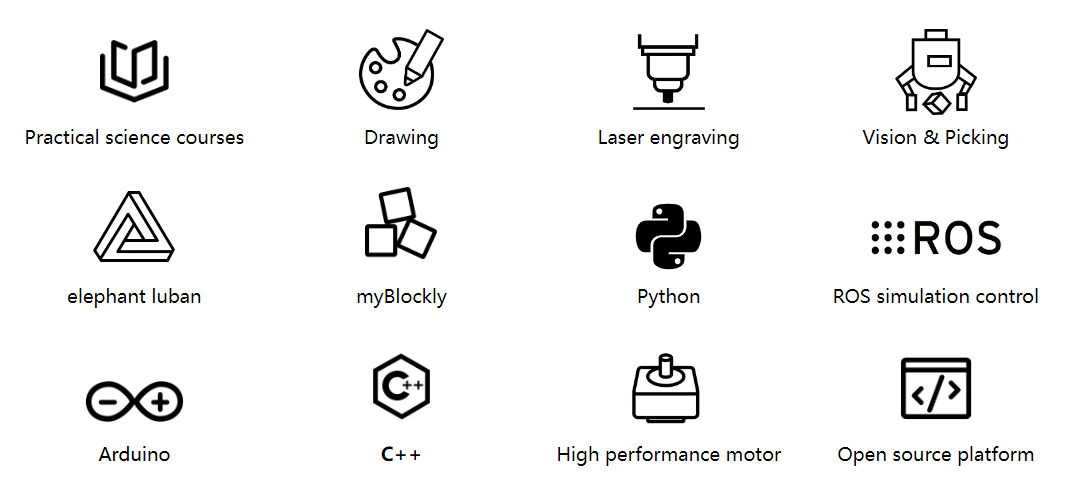 Rich interfaces can meet your different needs of control and help you realize your ideas.

Integrated design with interfaces for laser engraving, adaptive gripper and suction pump, and a burning switch, ultraArm helps users switch functions easily for a better learning experience on practical exercises.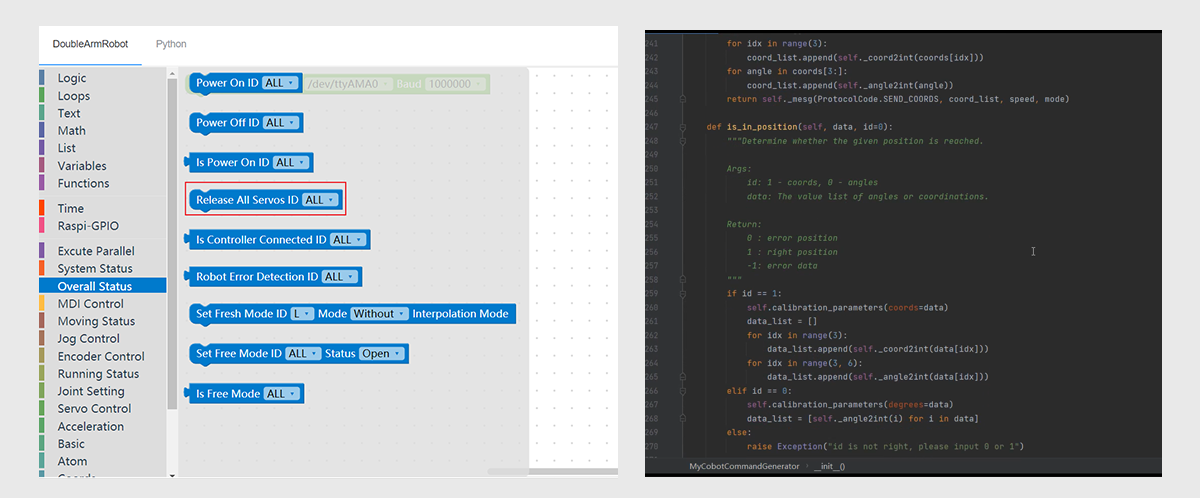 MYBLOCKLY
myBlockly is a drag-and-drop programming visualization software. It is a basic technique that allows users to drag and drop code blocks or other visual cues, rather than manually writing text-based code, which makes programming easier.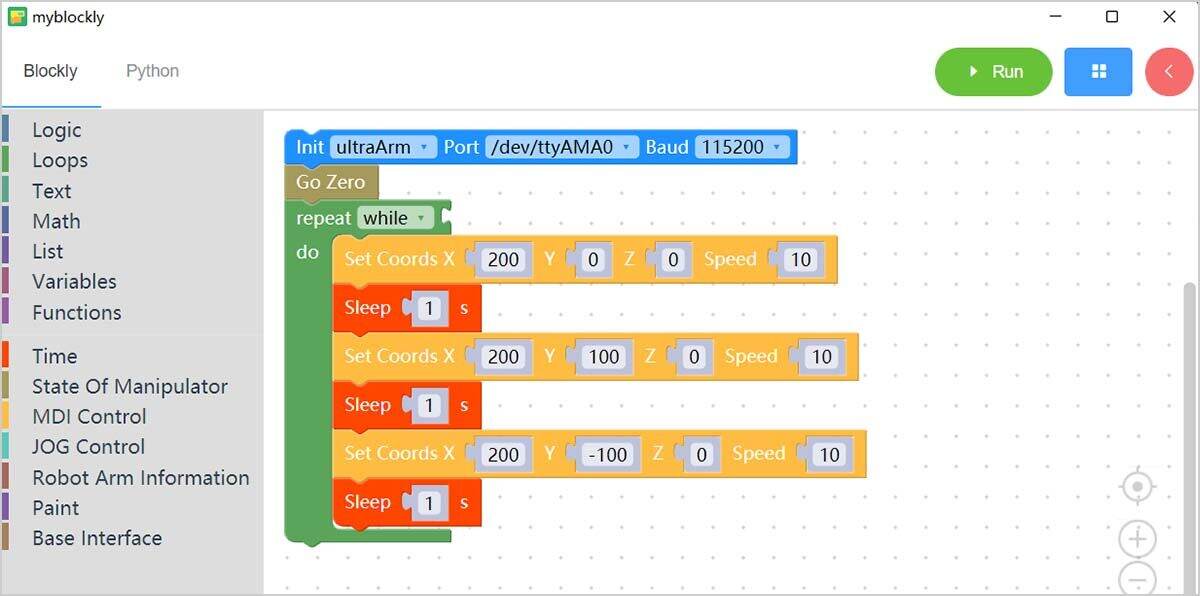 ROS1 & ROS2 SIMULATION CONTROL SUPPORTED
Based on the global mainstream robot communication framework, ROS, ultraArm supports the control and algorithm verification in the virtual environment, reducing the requirements of the experimental environment, improving experiment efficiency.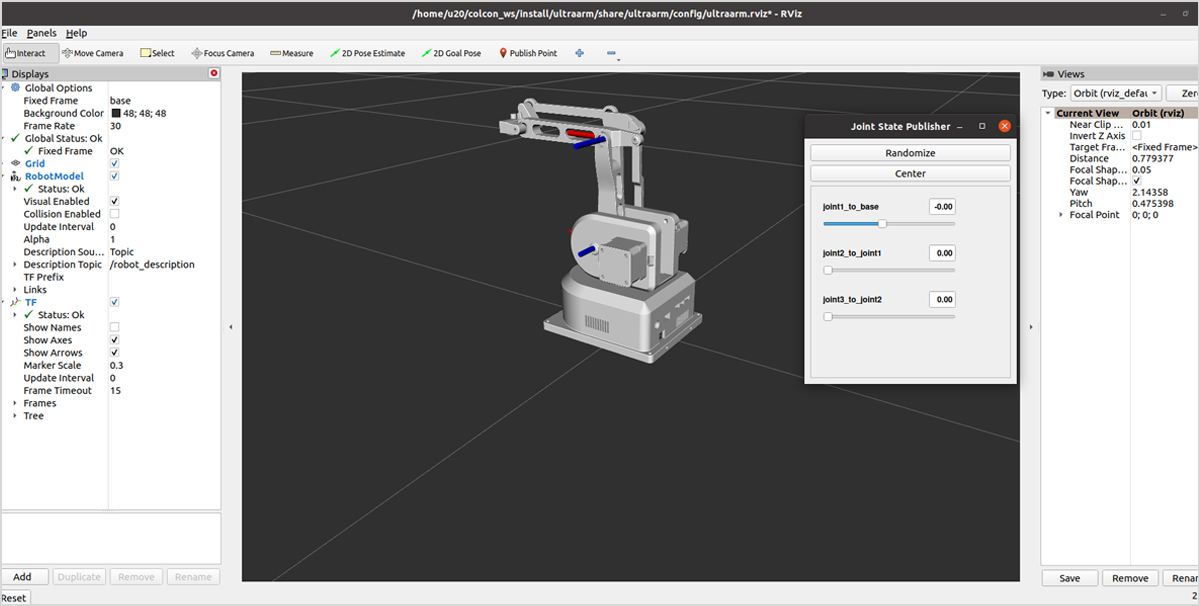 Elephant Luban is a platform that generates the G-Code track, and provides basic cases for users. Users can select multiple functions including precise writing and drawing, laser engraving, etc.
Love the ease of use.
The user interface looks very nice. As for beginner usage, this is my first use in Laser Engraving, and it gave me a good using experience.
Impressive printer!
Excellent printer, strong and impressive print quality, and the tool kit for laser make this printer the ideal ally for all, from rookies to expert entrepreneurs.
Great purchase. I like it so far.
After waiting a few weeks, I got it in a well-packed package. The complete documents and video tutorials on YouTube helpes me a lot. I use the Laser Engraving Kit regularly, it is a good product with a unique design.
Responsive support team
The robot could not work when I received it, but with the help of technical staff, I fixed it, and now it works.
Returns Policy
Our policy lasts 7 days. If 7 days have passed since your purchase, unfortunately, we can't offer you a refund or exchange. To be eligible for a return, your item must be unused and in the same condition, you received it. It must also be in the original packaging.
Warranty
Return service is limited to goods not opened within 7 days after the receipt date of logistics of the products. The freight or other risks incurred in return shall be borne by the customer.
Customers should provide the purchasing invoice and warranty card as the warranty certification when a warranty is being asked.
Elephant Robotics will be responsible for the hardware faults of products caused by normal use during the warranty period.
The warranty period starts from the date of purchase or the receipt date of the logistics.
The faulty parts from the products will be owned by Elephant Robotics, and the appropriate cost will be charged if necessary.
If you need to apply for warranty service, please contact our customer service first to confirm the detailed information.
During the warranty period of the delivered product, the company only repairs the malfunctions that occur during the normal use of the robot for free. However, in the following cases, the customer will be charged for repairs (even during the warranty period):
Damage or malfunction caused by incorrect use and improper use different from the contents of the manual.
Failure caused by unauthorized disassembly by the customer.
Damage caused by improper adjustment or unauthorized repairs.
Damage caused by natural disasters such as earthquakes and floods.
| | |
| --- | --- |
| Warranty Period | Warranty Services |
| ≤12 months | Elephant Robotics offers one free new part. The customer will bear shipping costs. |
| ≥12 months | Customers have to pay for the repair. |
Delivery
The products shall be delivered by International Express within 15 working days.
Please make sure to enter your shipping information in English to avoid possible existence in international logistics.
Email: info@elephantrobotics.com
Specifications
Model
ultraArm P340
DOF
3-4
Payload
650g
Repeatability
340mm
Positioning Accuracy
±0.1mm
Weight
2.9kg
Working Lifespan
5000h
Input power
12V 5A
Joint rotation range
J1 -150° ~ +170°; J2 -20° ~ 90°; J3 -5° ~ 75°
Noise
60 dB
Maximum terminal velocity
100mm/s
Base port
Laser engraving interface adaptive claw interface suction pump interface burning switch
Power supply adapter
100-240VAC 50-60Hz
Installation Mode
Horizontal Desktop Installation
Power module
High performance stepper motor
Method of programming
Elephant Ruban,Graphical programming myBlockly,Python
Operating temperature
0°~45°
Working environment humidity
5%-80%
Velocity of joint
J1 100°/S; J2 100°/S; J3 100°/S
Q1: Does it support secondary development?
A1: Yes. You can use our API (Python、C++、C#、Javascript) to control ultraArm.
Q2: What can I learn with ultraArm?
A2:
With ultraArm P340 , you can learn:
Hardware: Embedded Microcontroller, Motor control, servo control, robotic arm control, etc.
Software: Arduino, myBlockly, Elephant Luban, C++, Python, ROS,Vision & Picking, etc.
Q3: What about its working time?
A3: It uses adapter power instead of battery power. It can work 24/7 with power supply. But we don't suggest keeping it working for a long time.
Q4: What about its payload?
A4:Net weight:2.9kg. Payload: 650g. Working radius: 340mm
Q5: What about the after-sale service?
A5: We offer returns and warranties for our customers. Returns services are limited to goods that have not been unpacked within 7 days of the date of signing for the goods logistics. Shipping costs or other risks arising from returns are borne by the customer. During the warranty period of the delivered product, the Company will only repair the robot free of charge for failures that occur during normal use. For more information on the warranty, please see the product details page.
Q6: When will the product be shipped after I place the order? And what about the shipping ways?
A6:We ship worldwide and we use FedEx, UPS and DHL. The products will be delivered by International Express within 15 working days. All products use standard cartons and special customized super hard paper shells to firmly fix the products and prevent damage from impact.
Q7: I don't know how to develop robotic arm. Is there a graphical page for operations?
A7:For non-technical users, we provide a one-stop visual graphical page to help you program the robotic arm easily.
Q8: What about the repeated positioning accuracy?
A8: The repeated positioning accuracy of ultraArm P340 is ±0.1mm. The high performance stepper motors ensure high accuracy.
Q9: Is there a camera on the robotic arm? Can it achieve visual recognition sorting function?
A9:We have launched robotic kits for machine vision learning, which is equipped with cameras and related accessories.
Q10:Can you provide relevant information about the robotic arms of Elephant Robotics?
A10:
Our Product Introduction and User Manual Link is https://docs.elephantrobotics.com/docs/ultraArm-en
Github-development Link ( software tutorial ) is
ROS1: https://github.com/elephantrobotics/mycobot_ros/tree/noetic/ultraArm
ROS2: https://github.com/elephantrobotics/mycobot_ros2/tree/humble/ultraArm
Python:https://github.com/elephantrobotics/pymycobot
Software Download: https://www.elephantrobotics.com/download