MarsCat, a Perfect Bionic Pet Cat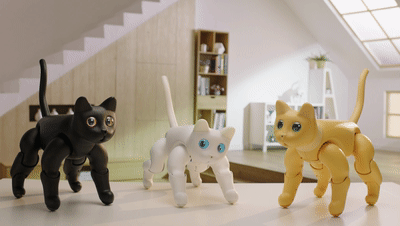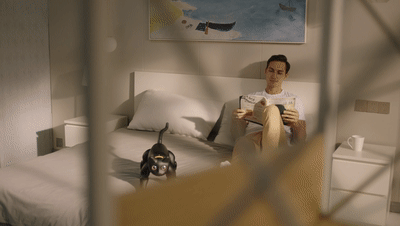 MarsCat is the world's first bionic pet cat developed by Elephant Robotics, aiming to be a home robot, a robotic pet to comfort you and surprise you. Just like a real cat, MarsCat is fully autonomous. No extra instruction is needed to control its movements.
It is fully responsive and has sensitive interactions. It can feel your touch, hear your voice, see your face and play with toys. Every MarsCat is unique from its eyes, body to personality, its personality will change according to the way you pet it. With powerful quad-core Raspberry PI, you can also program it easily and give it endless possibilities.
MarsCat can also be an ideal choice for education, research and commerce.

Living With MarsCat, A Home Companion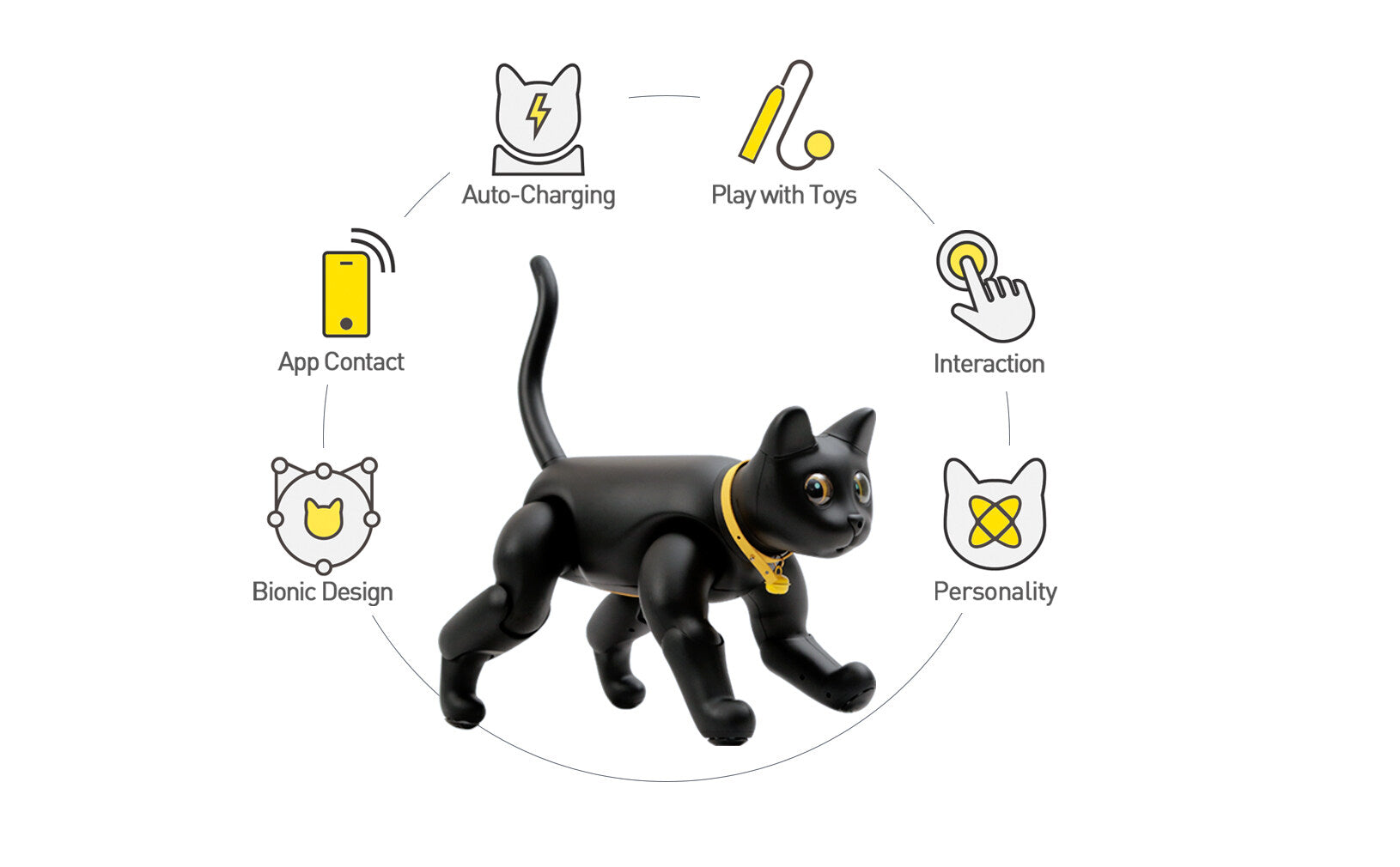 Bionic and Independent
You will never know what MarsCat will do next because it is like a real cat, fully autonomous. MarsCat acts independently without any instructions. MarsCat walks, runs, sleeps, sits, stretches, bites nails, kneads, and even buries litter although she won't produce any waste. It may express different emotions by different meows or gestures.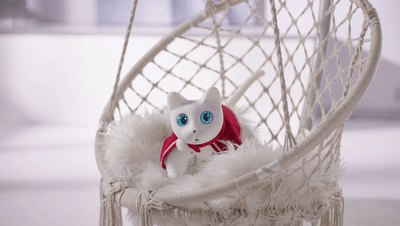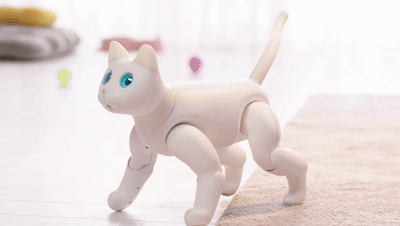 Highly Interactive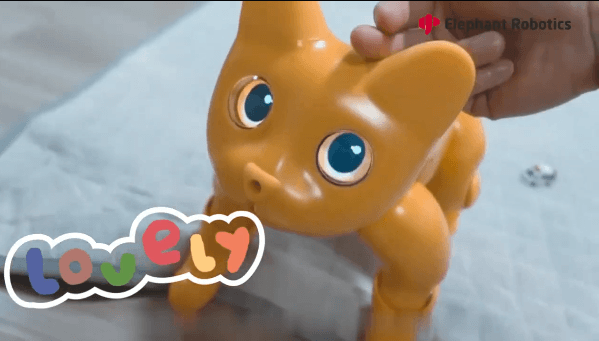 MarsCat is a good companion, it is fully responsive and interactive. It can play with you or your toys because it can feel, hear and see. Touch its head, chin or back to find out what it will react! It can also interact with objects or people nearby, even play with real cats.

Feel: You can touch its head, jaw and back or even hug it. After touching for an amount of time,MarsCat will interact with you in different ways. It may sit down and watch you, change its eyes image or start grunting.
Hear: You can talk to MarsCat to order it to walk or come to you, but it will not always follow your command, it has its own feeling.
See: MarsCat will see you or see its own toys. MarsCat can play Teasers (by moving object recognition), Toy-ball, Toy-fish or find its own bed.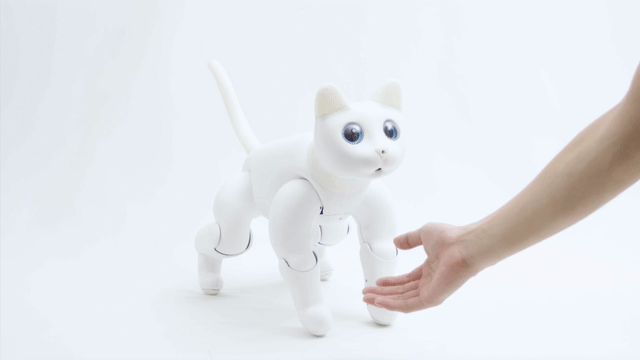 Friendly To People With Cat Allergies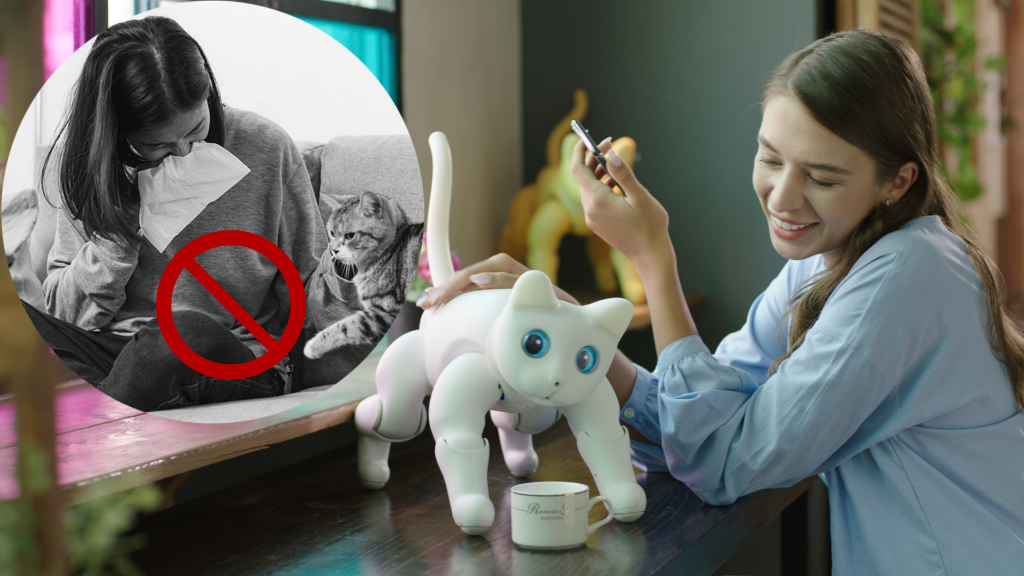 If you develop an allergy to your feline family member, why not invite MarsCat to your home? MarsCat certainly can realize your dream of owning a cat. Without any cat's hair in your house, you will get a non-allergen and sanitary environment.

Unique and Personality Developing
MarsCat is unique from its eyes, body to personality. MarsCat has 6 characters which can be changed. It may be enthusiastic or aloof, energetic or lazy, social or shy. Its personality develops through the way you pet its.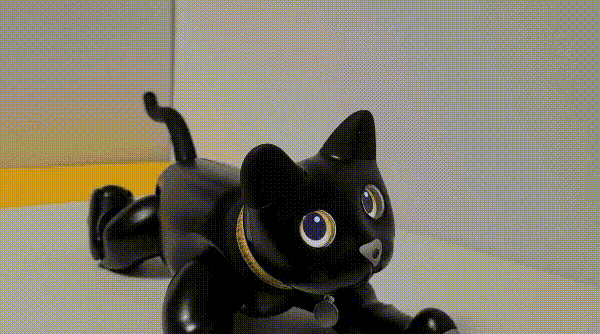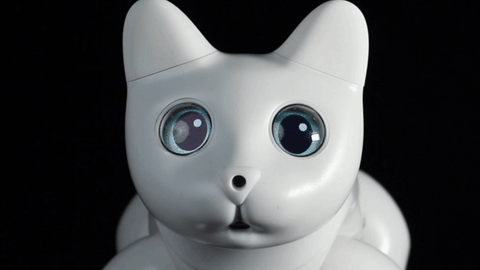 Besides, you can tease your MarsCat with any prepared toys, it will interact with the toys by walking closer, waving, etc. Controlling with MarsApp, you can easily change its eyes colours and command it to act as you like.If you want to dress your MarsCat, we provide a variety of clothes, hats, collars, even scarves for MarsCat. The combination of outfit styles totally depends on you.
Hands-free Raising(Premium Set)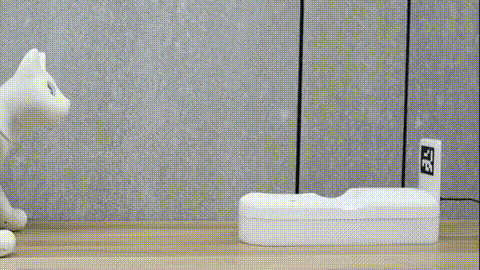 No more cat litter changing and cleaning, MarsCat is just smart enough to take care itself. It can auto-charge itself as long as you set up the charge station, and MarsCat can always entertain itself when you are busy saving the world.

Open Source and Programmable(Developed Set)
You can program MarsCat easily and make it with endless possibilities. With powerful quad-core Raspberry Pi, you can create your own applications. MarsCat is also an ideal choice for education, research and commerce.

FEEDBACK

Great Companion
I like the Marscat but I wish it could do more. The App is not so user friendly.
MarsCat is great!
I got my MarsCat today and he is lovely. Very cute. Customer service was also great when I was having trouble. Very good care. Thank you Elephant Robotics!!!!!
Needs a update
Marsapp desperately needs a update and marscat robot
After-sales Service
The service is only applicable to customers who purchase MarsCat from the official or legal channels authorized by Elephant Robotics.
If the customer needs after-sales service, please contact customer service in time to confirm the relevant information. Also, the customer should fill in the product warranty card in detail, and complete the corresponding after-sales service process under the guidance of customer service.
Note: We reserves the right to interpret and modify the content of the service clause within the scope permitted by law.
Receiving & Returning
Please make sure that you sign for the package, please confirm that the product comes with its own outer packaging intact and not damaged, the product accessories are complete, and the quantity is correct before signing for it. If you find any problems, please contact us in time.
If the package is not opened within 7 days from the date of receipt, it can be returned for no reason.
Costs and other risks arising from product return and exchange shall be borne by the customer.
* Shipping freight and related costs for returning the product to Elephant Robotics, excluding the shipping freight arising from product resending;
*All risks of product loss or damage during shipping.
Warranty
* Before we provide product warranty services, customers should provide corresponding purchase documents and product warranty cards as certificates.
* For any hardware failure caused by the product itself under normal curcumstaince, Elephant Robotics will provide free maintenance service within the warranty period.
* The warranty takes effect from the date of receipt of the product
* The repaired and replaced parts are owned by Elephant Robotics (a fair amount of costs should be charged when necessary)
**Electronics (including servos)**
| **Warranty Period** | **Warranty Service** |
| ------------------- | -------------------------------- |
| ≤90 days | The company bears the maintenance cost and the round-trip shipping freight of the product |
| >90 days | Customer bears the cost of shipping freight and maintenance cost |
Non-Warranty Terms
In one of the following cases, the warranty service cannot be provided even within the warranty period:
Products damaged by improper use
The customer cannot present the corresponding purchase receipt/product warranty card and other certificates or the relevant certificate has been altered
Belonging to consumable materials (natural consumption, wear and aging of shells, paw pads, etc.)
Failure or damage caused by unexpected factors or human factors
Other failures or damages not caused by the design, technology, manufacturing, quality and other issues of the product itself
Products with unauthorized modification (replacement) of components
The product line is scratched, stained, rusted, oxidized or artificially damaged during shipping
Products damaged due to irresistible external factors such as earthquakes, lightning strikes, etc.
Special Instructions
Costs and other risks arising from product warranty shall be borne by the customer
Shipping freight and other charges for returning the product to Elephant Robotics (excluding the shipping freight arising from product resending)
All risks of product loss or damage during shipping
The company is not responsible for any direct or indirect loss or damage caused by the customer's inability to use Elephant Robotics' products for any reason above (including damage to user data records or other tangible or intangible assets)
Return To Repair
When the product fails while using, please follow the procedures below. In order to ensure your timely service and your right to use, try to make sure that the product is faulty before returning it for repair, so as to avoid affecting your use during the repairing period.
With the assistance of the Elephant Robotics, the customer tests it on his/her own (confirm that the product sent for repair is faulty)-->Send it to Elephant Robotics-->After-sales department for inspection-->Send it to production department for maintenance (before confirm the failure reason)--->After the repair, the product is returned to the after-sales department-->Return the repaired one to the customer

When the product fails, customers should find the reason by themselves at first; (this process can be confirmed by the after-sales personnel and technicians of Elephant Robotics online)
If it is determined that the product is faulty, the faulty product will be returned to Elephant Robotics for maintenance. If the charge is required, the Elephant Robotics will inform the charge amount to consult whether to agree to repair;
Elephant Robot reserves the right to identify the cause of product failure;
During the warranty period, the customer bears the return shipping cost, and the Elephant Robotics bears the repair cost and shipping cost. If it is not within the warranty period, the customer needs to pay the round-trip shipping cost and repair cost.
Paid Warranty Service
Elephant Robot supports extended warranty service, that is, customers pay MarsCat Support Care related fees every year, which can increase the original 3 warranty periods of the product to one-year maintenance service.
The specific services are as follows:

The product warranty period is extended to 1 return service within one year
Price: 2499 yuan/year
Please refer to the information on the purchase interface for actual
Customer Notice
Try to ssave and copy user data before sending for repair, because data and other settings may not be retained after repair
Since MarsCat is a precision electronic product (customers should adopt safe and reliable packaging and transportation methods when returning the product to avoid more serious damage caused by during shipping. It is recommended that customers apply for transportation insurance. The company will not be responsible for the loss due to transportation reasons or other irresistible reasons, please understand.
The maintenance time will be determined by the shipping way and the degree of damage of the returned product, and the customer will be informed after our receiving the repaired items.
The final interpretation right of these terms of service belongs to Elephant Robotics.
Package&Shipping
All products use standard cartons and special customized super hard paper shells to firmly fix the products and prevent damage from impact.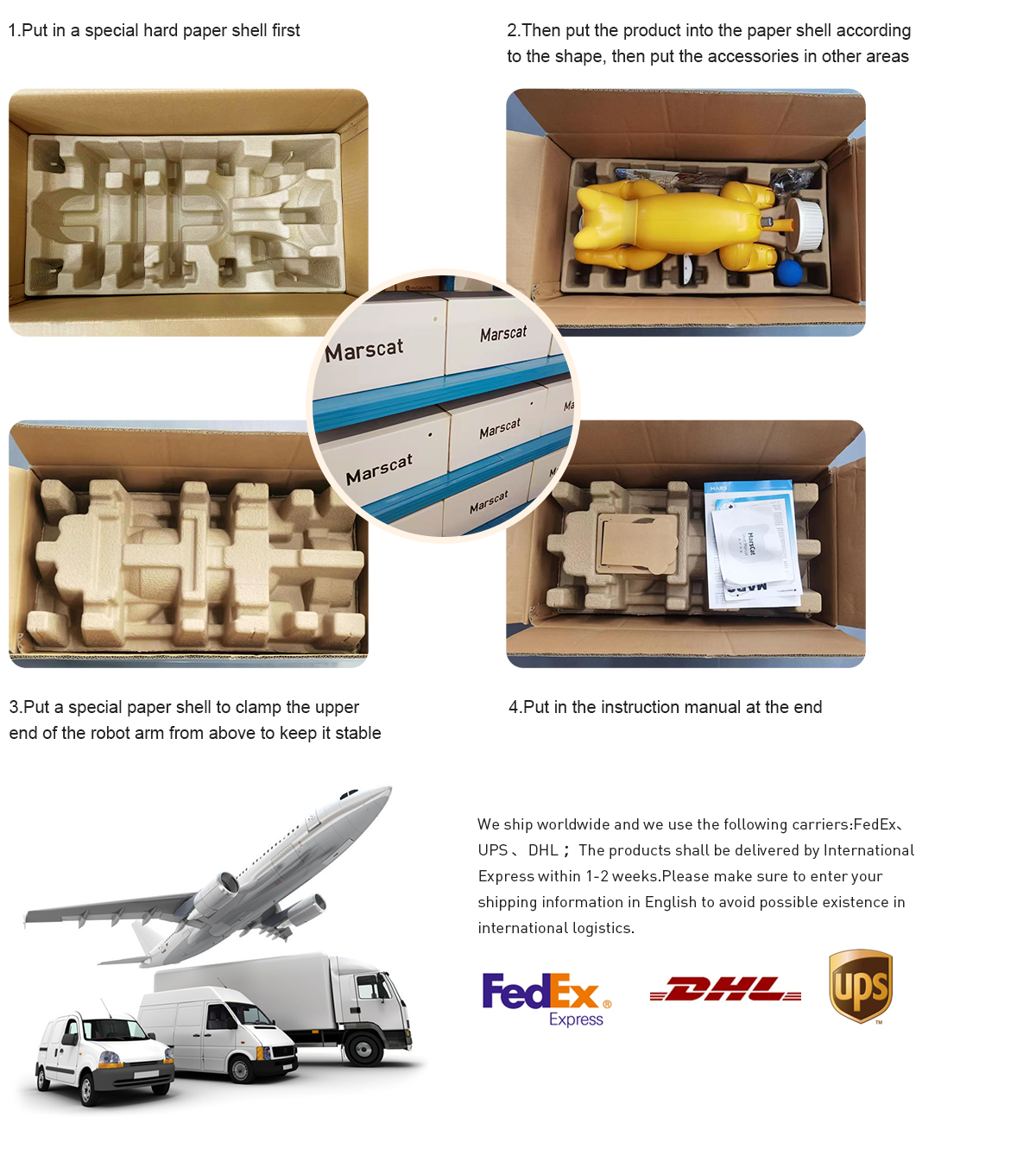 Q1: Does it support the secondary development of functions?
A1: Standard and Premium Set didn't support open sourced development. If you are interested on Marscat development you can purchased Developed Set. You can program MarsCat easily and make it with endless possibilities. With powerful quad-core Raspberry Pi, you can create your own applications. You can find MarsCat's open-source code from https://github.com/elephantrobotics/marsai
Q2: What is the language of the system?
A2: There are only two options for the system language: Chinese and English. The default delivery is the English language version, if the Chinese version is required, you need to contact our customer service staff for remarks. In addition, the APP/MarsCat/repeat connection will not change after setting up the language.
Q3: Will Marscat keep updating its system? How can I update to the latest version?
A3: Yes, MarAi is under consistent development and we will frequently provide updates for users. You can check out the specific OTA introduction with the following link: https://docs.elephantrobotics.com/docs/MarsCat-en/page/11-update&recovery.html
Q4: How to charge MarsCat?
A4: 1. Charging Station:
Connect the charger to the charging station and the power socket. You can charge it manually. Lay down MarsCat on the charging station so that the charging pins on the belly are engaged with the charge connector on the charging station.
MarsCat will go to the charging station to charge itself when its battery is lower than 10%(its eye will show a low battery sign); and the charging station is within the range of its vision(3*3m)
2. Charger
You can charge MarsCat directly with the charger, adjust MarsCat to an upturned position, plug the charger into the charging pins on the belly.
When MarsCat is charging, the battery starts charging and the status LED of the charger turns red.
When MarsCat is fully charged, the status LED of the charger turns green. It takes approximately 3 hours to fully charged MarsCat.
Q5: Does the battery need to be replaced?
A5: The battery model is INR18650MJ and is supplied exclusively by Elephant Robotics. For a new battery to replace, please visit the official website for information and to make a purchase:
Q6: How long will it take to ship after I placed the order? And What kind of logistics?
A6: We ship worldwide and we use the following carriers: FedEx、UPS 、DHL. The products shall be delivered by International Express within 1-2 weeks. All products use standard cartons and special customized super hard paper shells to firmly fix the products and prevent damage from impact.
Q7: Hello, can you provide relevant information about the marscat of elephantrobotics, and post a tutorial?
A7: Of course, you can refer to our following materials: