myCobot 320 M5 2020 is an advanced version of myCobot products, which is mainly suitable for makers and scientific researchers. It can carry out secondary development according to the needs of users and realize personalized customization of users. The overall sophisticated design, all-in-one design, has three advantages of ease of use, safety, and economy, and is a cost-effective choice.
The myCobot 320 M5 2020 has a bodyweight of 3kg, a payload of 1kg, and a working radius of 320mm. The volume is relatively small but powerful. It is easy to operate and can work in coordination with people and work safely.
Features

Powerful performance, equipped with two displays
The use of brushless DC servos can achieve a repeat positioning accuracy of

±0.5mm

.
The body is equipped with two displays, supporting

M5

ecological applications, effectively expanding the collaborative application space.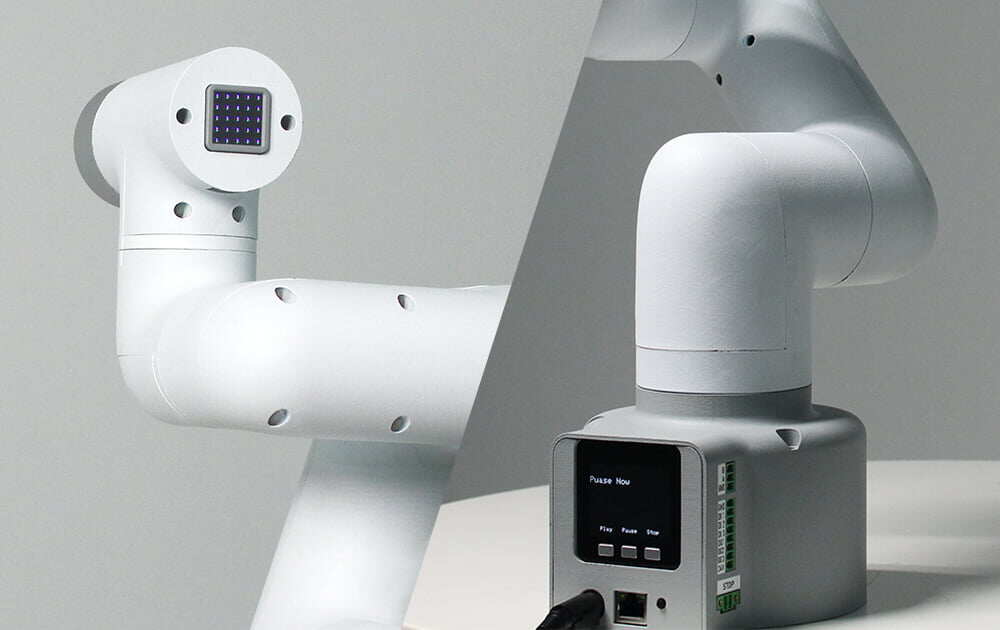 Economical and applicable, super cost-effective
The standard 8-hour work system can replace repetitive and standard work.

Cost-effective for reducing costs and increasing efficiency for scientific research that requires high performance and low cost.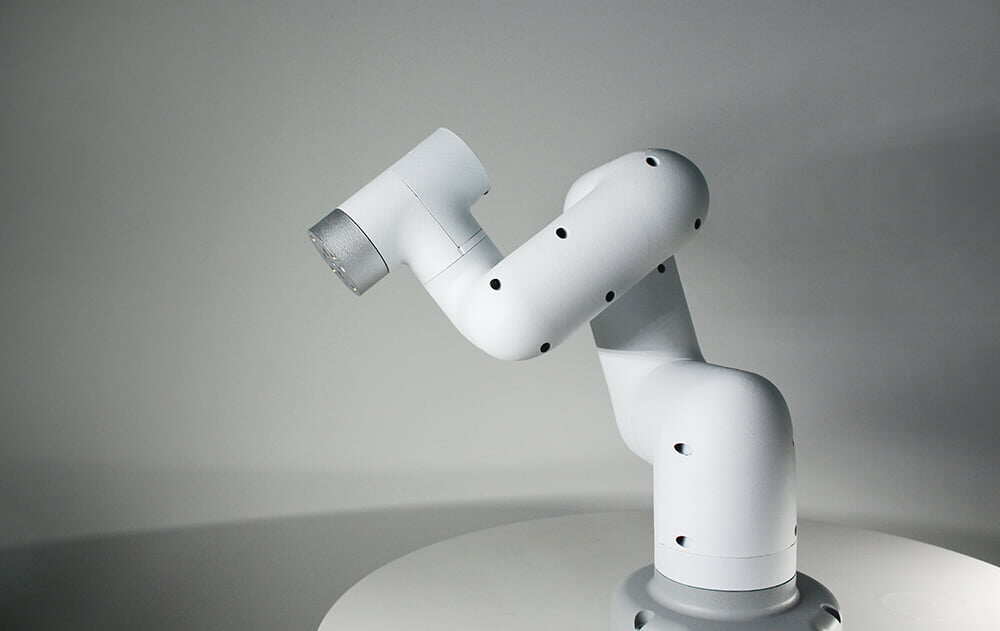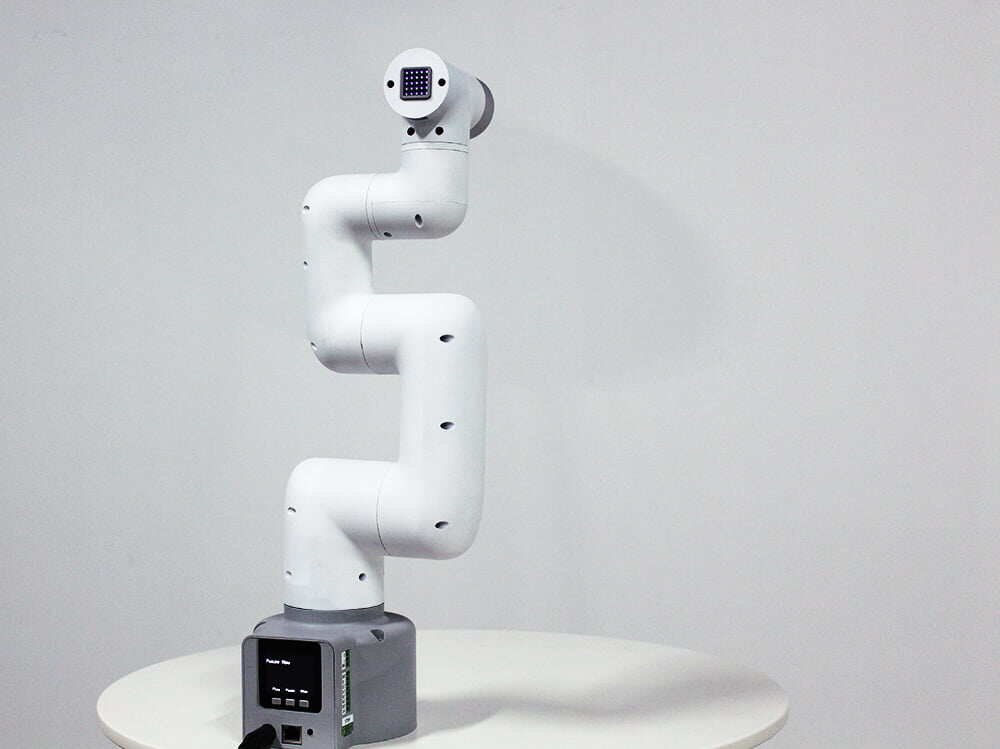 Integrated design, safe and collaborative operation
The exquisite structural design makes it possible to make full use of the space and perfectly blend into the actual environment.

Equipped with the anti-collision detection function based on the accurate dynamic model, so that it can work safely with people.
Track Recording & Learn by hand
Get rid of the traditional point saving mode, myCobot supports drag trial teaching to record the saved track and can save up to 60mins different Tracks making it easy and fun for beginners to learn robotic arm.
How to control myCobot M5?
Learn by Hand: Get rid of the traditional point saving mode, myCobot supports drag trial teaching to record the saved track and saves up to 60mins different tracks making it easy and fun for new players to learn.
You can use the digital pins on the robot to make it communicate with other devices, for example, Arduino (tutorial)
With Myblockly, our free desktop application, Mind+ or UiFlow, uses blocks to create your own robotic programs. Based on Blockly (similar to Scratch), our visual programming interface allows you to quickly and easily create robotic programs without any prior programming knowledge. You can also use RoboFlow, our software for industrial robots.
Advanced Users: develop your own controller (use a computer mouse, a keyboard, a game controller or Leap Motion to control myCobot according to your preferences and needs), use our API (

Python

、C++、

C#

、

Javascript

) to control myCobot directly or remotely or dive directly into the ROS code, which is open-source.







Specifications
Product
myCobot 320 2020
Model
mycobot-320-M5 2020
Payload
1kg
Weight
3kg
Reach
320mm
Repeatability
±0.5mm
DOF
6
Joints Range
J1 +/- 170°
J2 +/- 160°
J3 +/- 160°
J4 +/- 160°
J5 +/- 170°
J6 +/- 175°
IP Level
IP42
Material
Industrial Nylon
Working Condition
0~50°C
Power
110~220V AC
Product
myCobot 320 2020
Tool IO
12V/ GND
Digital-INPUT X2
Digital-OUTPUT X2
485Bus AB
Base IO
Digital-INPUT x3
Digital-OUTPUT x3
Communication (Base)
Ethernet Port
typeC-Port
Software
RoboFlow, UIFlow, myStudio ROS, MoveIt, Python
Max End-speed
0.7m/s
Power Supply
24V 5A; 120W
Max Rotational Speed
180°/s
Servo-Gear Set
Alloy Steel
Servo-Encoder
12 Bit
Servo-Max Speed
180°/s
Noice
85 dB
Working Range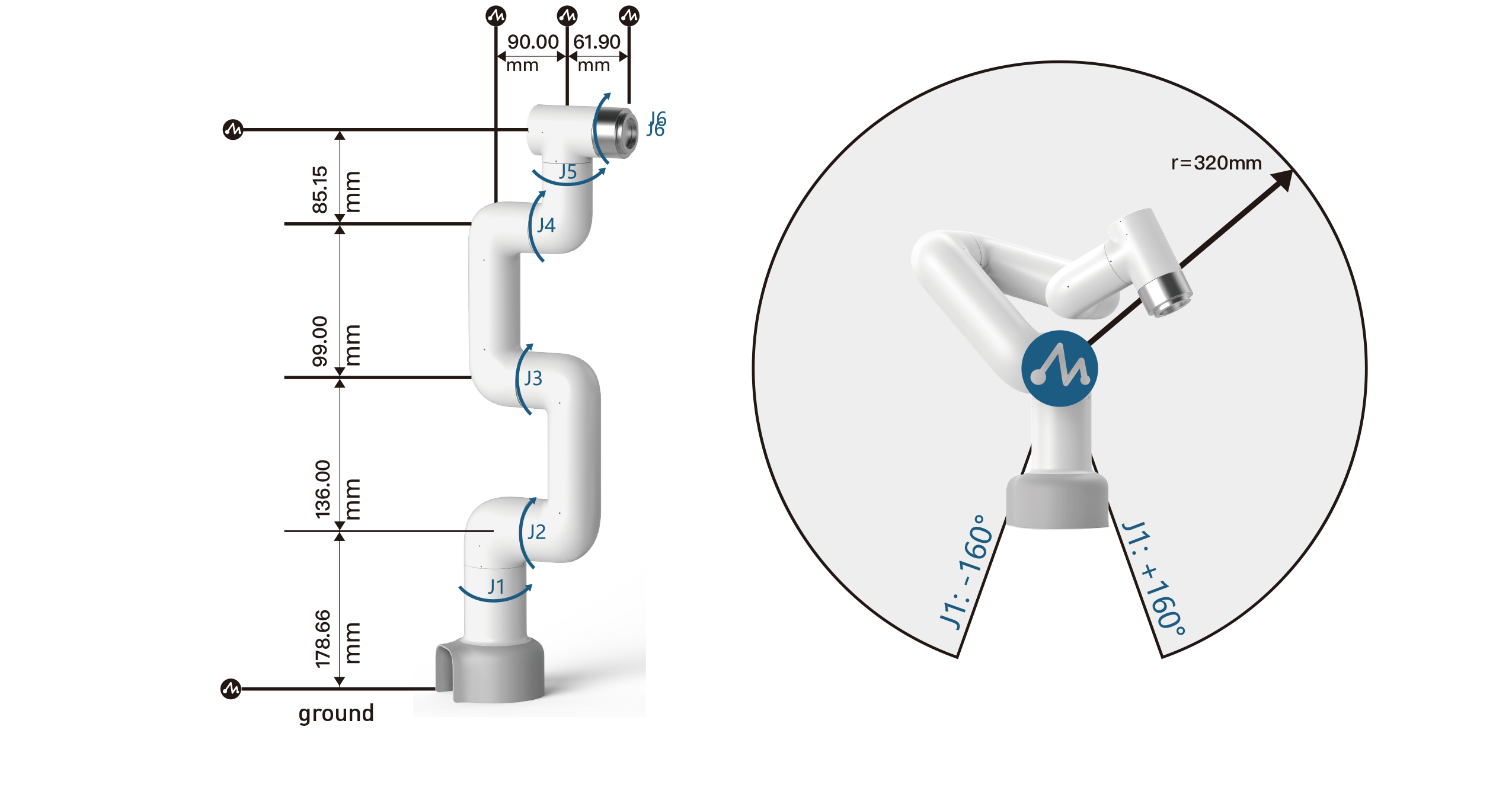 Application
myCobot 320 M5 2020 is a productivity tool as well as an expansion tool for imagination. It can be used with a variety of end effectors to adapt to a variety of application scenarios, such as scientific research, education scenarios, display scenarios, etc. The current customer feedback is excellent.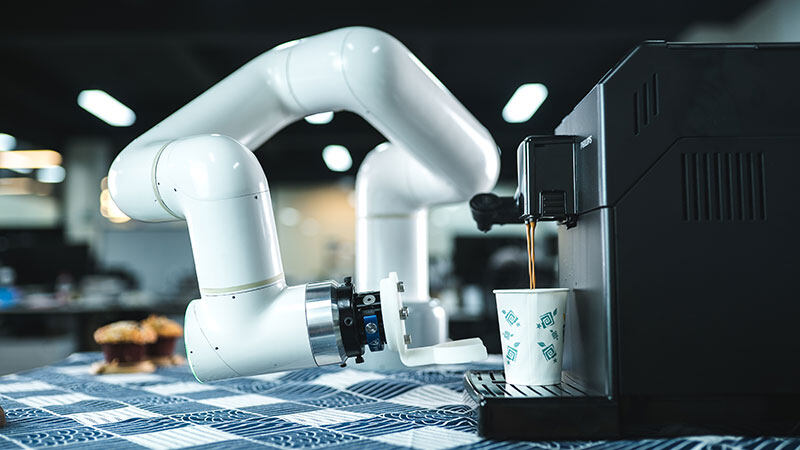 Smart Barista
Smart barista to enlarge your business can be applied in various commercial scenarios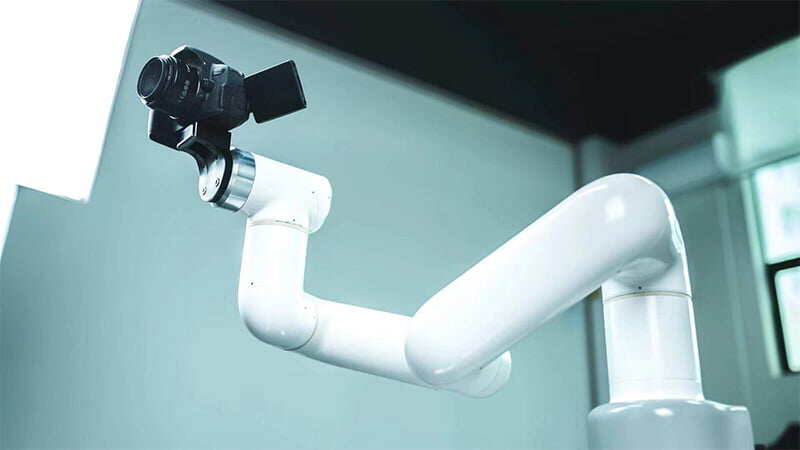 Photograph Assistant
Perfect helper in a photographic studio, much more accurate and stable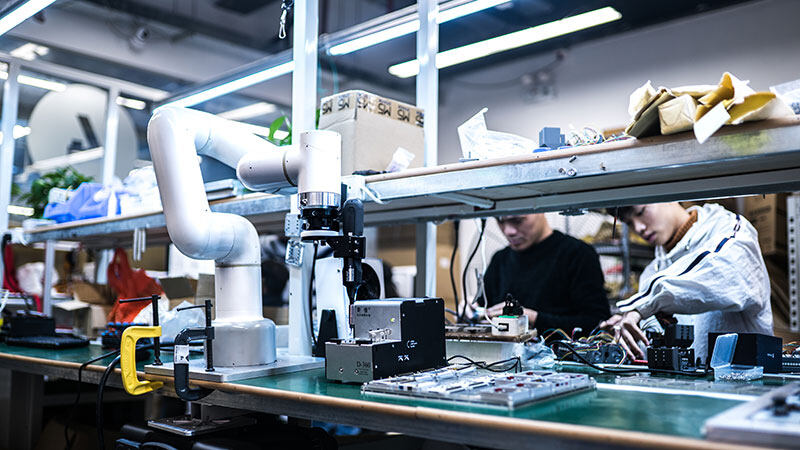 Replace repetitive work, produce efficiently, create more value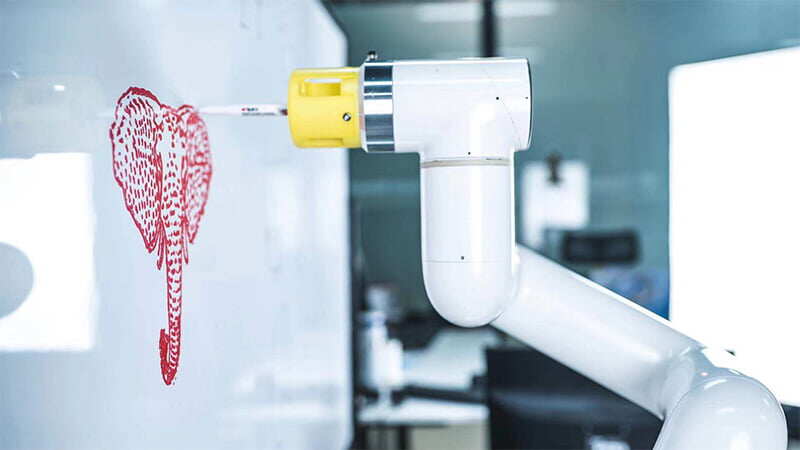 Continuously print out photos, the perfect combination of artistic creation and robot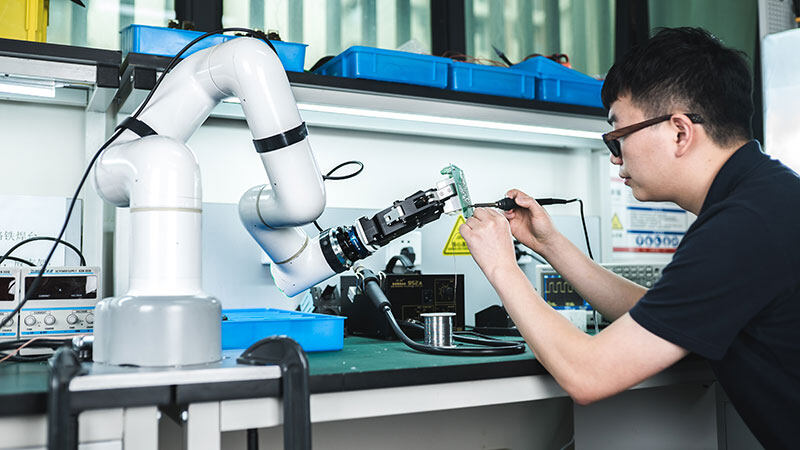 Helpful assistant in the workshop, human and robot collaboration, infinite creativity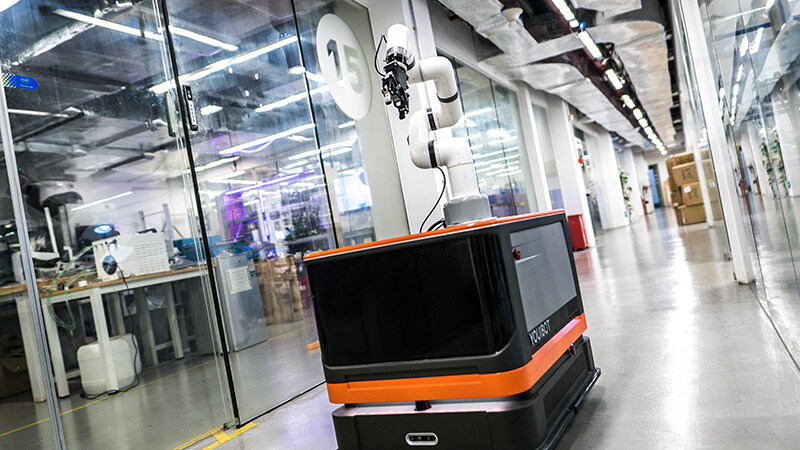 Compact All-In-One design, super-fit in AGV solutions, much more flexible
myStudio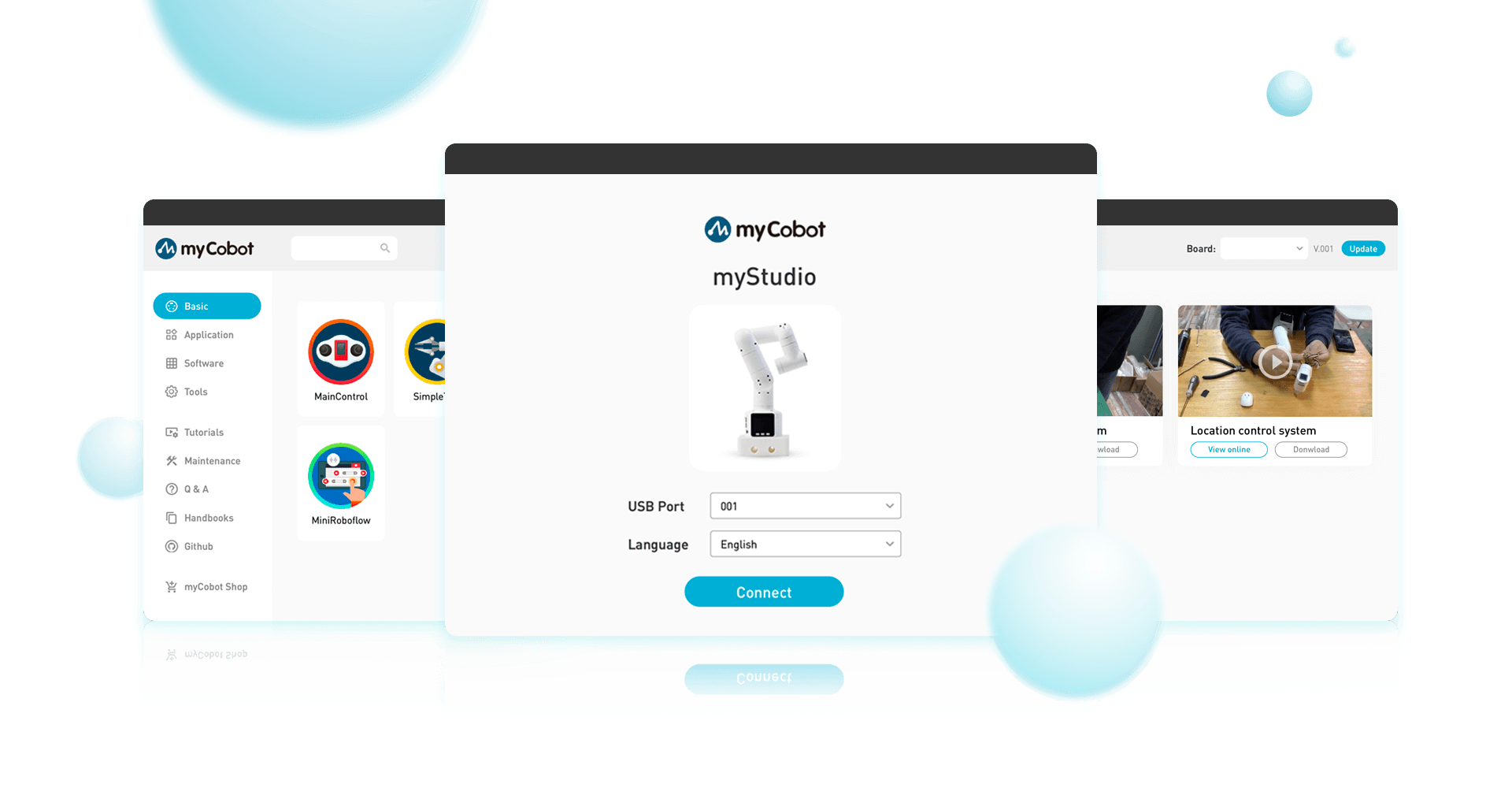 myStudio is a one-stop platform for robots of myRobot/myCobot. The main functions of myStudio are:
Update the firmware;
Provide video tutorials on how to use the robot;
Provide maintenance and repair information (such as video tutorials, Q&A, etc.).
Delivery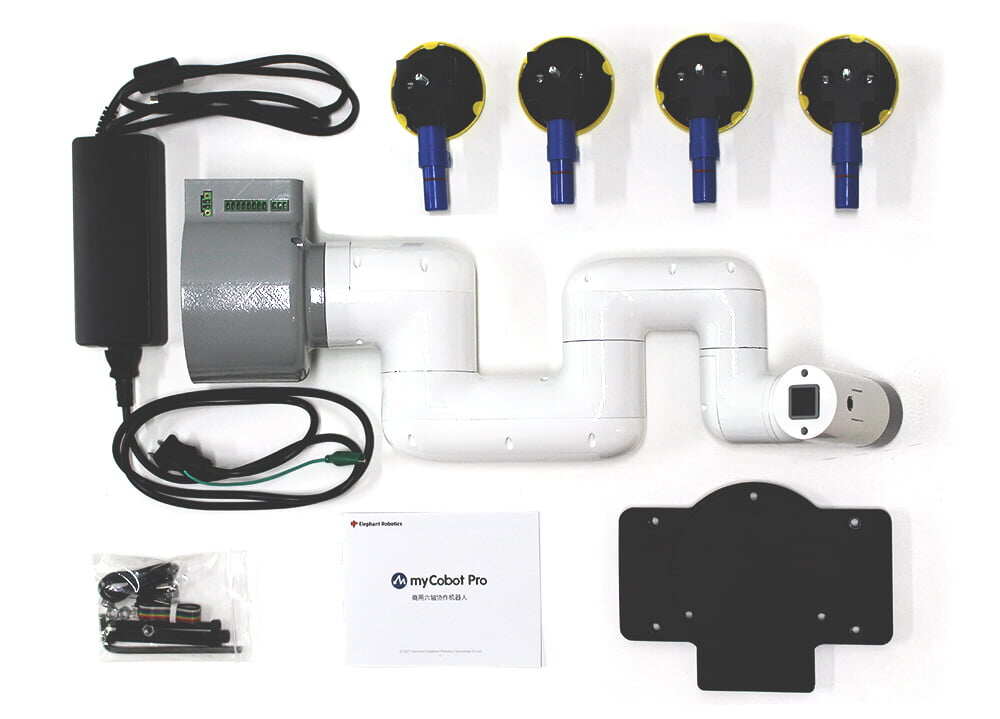 The products shall be delivered by International Express within 1-2weeks. 
Please make sure to enter your shipping information in English to avoid possible existence in international logistics. 
Email: info@elephantrobotics.com
Warranty
Return service is limited to goods not opened within 7 days after the receipt date of logistics of the products. The freight or other risks incurred in return shall be borne by the customer.
Customers should provide the purchasing invoice and warranty card as the warranty certification when a warranty is being asked.
Elephant Robotics will be responsible for the hardware faults of products caused by normal use during the warranty period.
The warranty period starts from the date of purchase or the receipt date of the logistics.
The faulty parts from the products will be owned by Elephant Robotics, and the appropriate cost will be charged if necessary.
If you need to apply for warranty service, please contact our customer service first to confirm the detailed information.
During the warranty period of the delivered product, the company only repairs the malfunctions that occur during the normal use of the robot for free. However, in the following cases, the customer will be charged for repairs (even during the warranty period):
Damage or malfunction caused by incorrect use and improper use different from the contents of the manual.
Failure caused by unauthorized disassembly by the customer.
Damage caused by improper adjustment or unauthorized repairs.
Damage is caused by natural disasters such as earthquakes and floods.
Warranty Terms of Detailed Components
| | |
| --- | --- |
| Warranty Period | Warranty Services |
| ≤6 month | Elephant Robotics offers a free new sever motor and bear the freight. |
| | |
| >6 month | Customers need to buy it themselves. |
Electrical Parts(M5Hardware)
| | |
| --- | --- |
| Warranty Period | Warranty Services |
| ≤6 months | Customers need to send it back after disassembly, Elephant Robotics shall send a new one for free and bear the freight out and home. |
| | |
| >6 months | Customers need to buy it themselves. |
Structure Parts, including shell parts
| | |
| --- | --- |
| Warranty Period | Warranty Services |
| ≤12 months | Elephant Robotics offers free new components, customs shall bear the freight. |
| ≥12 months | Customers need to buy it themselves. |
It's the first time to touch the robotic arm, and it feels good after a period of experience, easy to use and easy to learn!
Am looking forward to
The professor recommends buying to help the laboratory's research
Would definitely buy again
I bought it to help me complete my project with my client, and everything goes well!
Nice to me!
This product arrived in a timely fashion and was very well packaged. I have been learning a lot, all the manuals and videos are online and/or available at YouTube. I would recommend this product, especially for someone like me who is new to the robotics. Everything was well done and thought out.
Returns Policy
Our policy lasts 7 days. If 7 days have gone by since your purchase, unfortunately we can't offer you a refund or exchange.To be eligible for a return, your item must be unused and in the same condition that you received it. It must also be in the original packaging.
Package&Shipping
All products use standard cartons and special customized super hard paper shells to firmly fix the products and prevent damage from impact.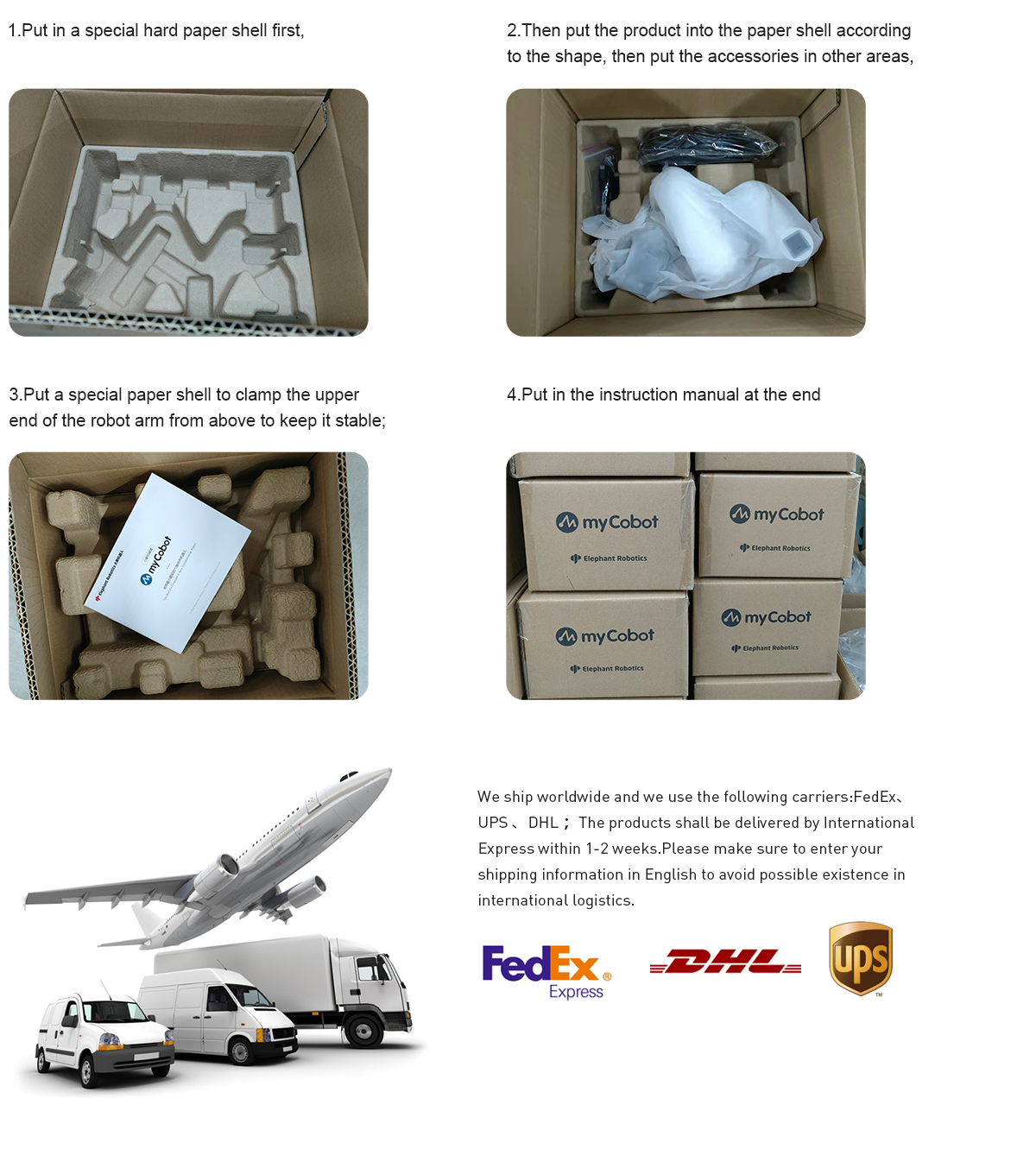 Difference
What are the differences between myCobot-M5, myCobot-Pi, myCobot-Jetson Nano, and myCobot for Arduino?
A robotic arm is a type of mechanical arm. It is usually programmable and assembles functions of a human arm. Such anarm is typically connected by joints that allow rotation or translational displacement.
Robotic arms are irreplaceable devices capable of performing a specific task or job quickly, efficiently, and with extreme accuracy in the modern production process. The earliest research on robotic arms dates back to the 1940s when US Argonne and Oak Ridge National Laboratories used remote robotic arms to deal with radioactive materials. After seventy year's development, robotic arms become one of the most common mechanical devices used in cutting, assembling, palletizing, spraying, and other occasions, and in medical surgery, aerospace exploration, military reconnaissance, etc.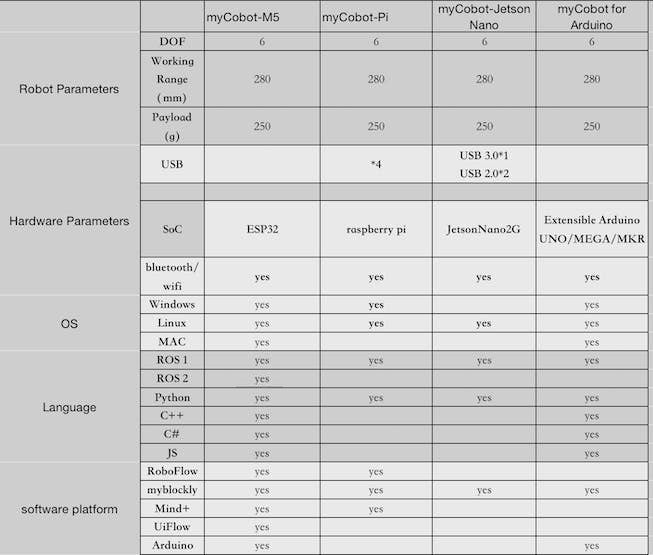 myCobot-M5introduced by the year 2020 with M5 Stack Atom & Basic ESP32 with dual display screens, supporting the faster visual operation and monitoring work status, so programming MyCobot-M5 is simple and easy for every user. Based on M5 Stack Atom & Basic ESP32 providing a full range of IoT modules from main controllers, communication modules to the sensors and actuators, Mycobot-M5 is suited for users emphasizing high performance, reliability, and scalability. Practical cases range from studio helpers that can deliver tools to kitchen assistants that can cookcakes. On M5 Stack open platform, users can browse and search for open source hardware, API interface and diverse cooperation forms in a more cost-effective way.
myCobot-Piintroduced with Raspberry Pi 4B with 1.5GHz 4 core CPU, running on Debian/Ubuntu platform. Built-in ROS and blockly visual programming enable Mycobot-Pi to operate with relatively high scalability. It is regarded as the most affordable portable processor. As Raspberry Pi aims to promote basic computer science education in schools with low-cost hardware and free software, users can enjoy a friendly educational community with the help of the Raspberry Pi press and Raspberry Pi foundation. With numerous books for computing gaming and the inspirational community in an easy-to-use platform of Raspberry Pi, this version is suitable for users ranging from beginners who want to learn python or set up a lightweight platform, to STEM educators and institutions for further research.
myCobot-Jetson NanoBased on the Jetson Nano AI board and equipped with a camera, myCobot 280 Jetson Nano is capable of quick image processing, robotic algorithm developments, ROS simulation learning, etc. Being a powerful small artificial intelligence computer, it can be started by simply inserting a microSD card with a system image, which simplifies beginners' development. Besides, the Jetson Nano board includes a higher-performance and more powerful GPU (graphics processing unit), which leads to better outcomes in eye-in-hand robot projects compared with my robot Pi making more advanced R&Dpossible. Combined with Nvidia's powerful SDKs such as Deepstream, Vision AI applications and services, it is an ideal version to deepen AI and robotics learning for developers. This boosts the potential of the myCobot-Jetson Nano's secondary development.
l myCobot for ArduinoCompatible with multiple Arduino or Arduino-like boards and extensions. Arduino software is easy-to-use for beginners, yet flexible enough for advanced users. While most other microcontrollers systems are limited to Windows, the Arduino Software (IDE) runs on cross platforms including Windows, Macintosh OSX, and Linux OS. This version focuses on the integrity of robotic arms and pays more attention to improving the simplicity of research and development of users. With a range of Arduino boards (e.g. MKR WiFi 1010, UNO, Mega 2560, etc ) and extensible software to choose from, developers and designers can make their unique myCobot to meet their demands. As myCobot for Arduino provides a more open clear development environment, developers can even design their boards without necessarily relying on PCB'A (Printed Circuit Board Assembly). Furthermore, for teachers looking to bring some innovation into classrooms, Arduino Education is ready to empower educators with necessary hardware and software tools.
For More:https://shop.elephantrobotics.com/blogs/news/which-mycobot-is-suited-for-you
MORE CHOICES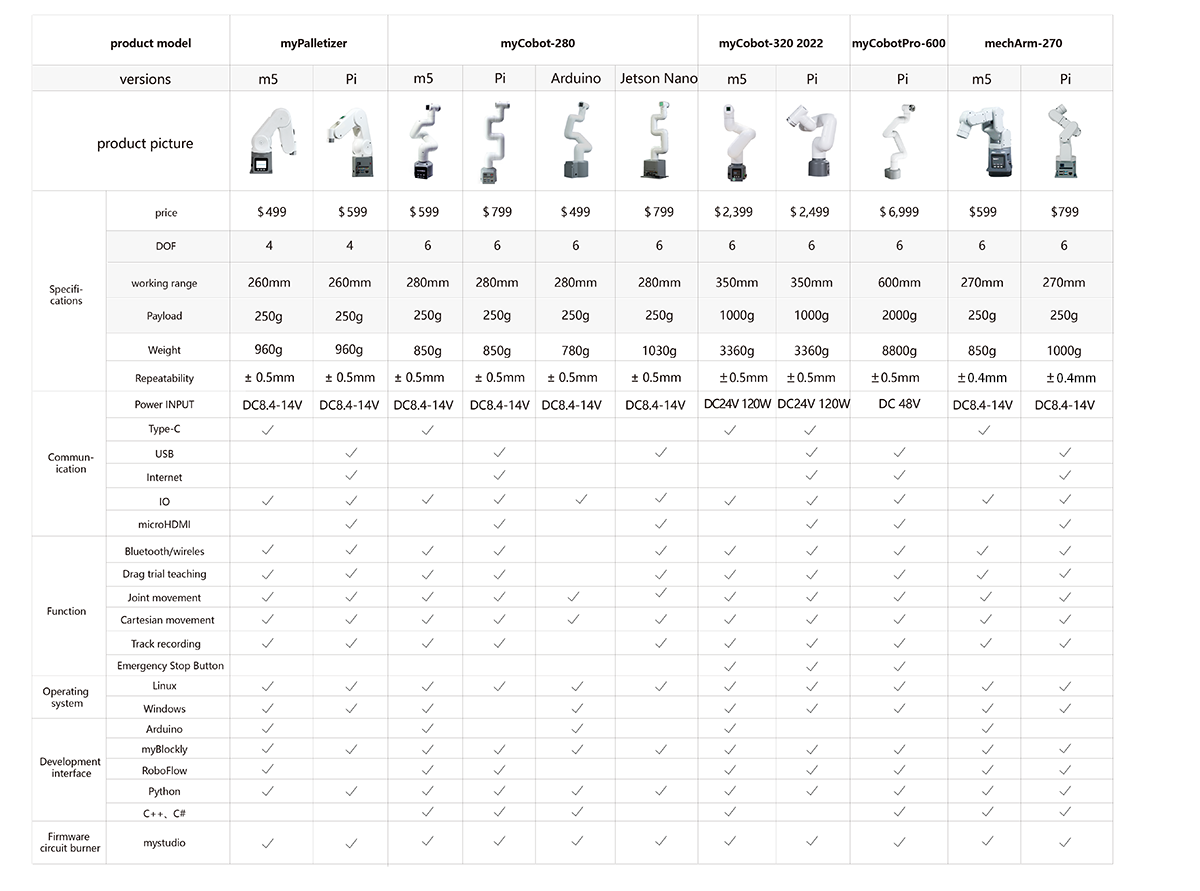 Q1: Does it support secondary development of functions?
A1: Of course. You can use our API (Python、C++、C#、Javascript) to control myCobot directly or remotely or dive directly into the ROS code, which is open-source.
Q2: What you can learn?
A2:
With myCobot M5 , you can learn that
Hardware: Embedded Microcontroller Based on ESP32, Motor and Steering Gear, M5Stack Basic/ Atom;
Software: Arduino, UiFlow, Myblockly, Mind+, RoboFlow, C#, C++, Python, Javascript, ROS,MoveIt, Communication Data, Virtual Machines & Linux (visual system).
With myCobot Pi and myArm, you can learn that
Hardware: microprocessor, motor and steering gear;
Software: Myblockly, Mind+, RoboFlow, C#, C++, Python, Javascript, ROS, MoveIt.
Q3: How long it lasts?
A3: It uses adapter power instead of battery power. It can work all the time as long as power supply. But we don't suggest keeping it working for a long time.Just like you use a computer, letting it take a rest at times is better.
Q4: How much weight can it lift / grip?
A4:
myArm 300 PI 2023:The payload is 200g, and the working range is 300mm.
myCobot 280: The net weight of myCobot is 850g, the payload is 250g, and the working range is 280mm.
myCobot 320:The net weight of myCobot is 3.5kg, the payload is 1kg, and the working range is 320mm.
myCobot 260:The net weight of myPalletizer is 960g, the payload is 300g, and the working range is 260mm.
myCobot Pro 600:The net weight of myCobot Pro is 8.8kg, the payload is 2kg, and the working range is 600mm.
Q5: What is warranty on this?
A5: We provide customers with return and warranty services.Return service is limited to goods not opened within 7 days after the receipt date of logistics of the products. The freight or other risks incurred in return shall be borne by the customer.During the warranty period of the delivered product, the company only repairs the malfunctions that occur during the normal use of the robot for free. For more warranty content, please check out on the product details page.
Q6: How long will it take to ship after I placed the order? And What kind of logistics?
A6: We ship worldwide and we use the following carriers: FedEx、UPS 、DHL. The products shall be delivered by International Express within 1-2 weeks. All products use standard cartons and special customized super hard paper shells to firmly fix the products and prevent damage from impact.
Q7: I don't know how to develop robot arm. Is there a graphical interface for operations?
A7: For non-technical players, myCobot and myArm supports drag teaching function, which allows you to teach it every action and instruction you want. Get rid of the traditional path point storage mode, no programming is required. The saved path can be recorded, and different paths can be saved as long as 60mins at most.
Q8: How about the repeated positioning accuracy?
A8: The repeated positioning accuracy of myArm 300 is ±0.5mm.
The positioning of the two products is not the same. The ER 280 robotic arm is a consumer type and is mostly used in the education field. It is recommended to use 1-2 hours to rest for 15-30 minutes. The repeat positioning accuracy can reach ±0.2mm in a short time.The ER 320 is suitable for commercial work within 12 hours, with a repeat positioning accuracy of ±0.3mm. If used in a short time, the repeat positioning accuracy can also reach ±0.2mm.
Q9: Is there a camera on the robotic arm? And is there a visual recognition sorting function?
A9: The robotic arm does not have a camera. But we have machine vision-related kits now available for vision development.
Q10: Hello, can you provide relevant information about the robot arm of elephantrobotics, and post a tutorial.
A10:
Our Product Introduction and User Manual Link is https://www.elephantrobotics.com/myCobot/
Github-development Link ( software tutorial ) is https://github.com/elephantrobotics/myCobot/
Gitbook ( Web Version Detailed Tutorial ) is https://www.elephantrobotics.com/docs/myCobot/