Use LCD, can charge one or more at will, each slot has voltage and current monitoring protection, which can monitor the battery power in real-time.
Intelligent identification of non-rechargeable batteries, when a short circuit or non-rechargeable battery is detected, the corresponding channel will automatically stop charging, and the character "ERRO" will be displayed, and the battery symbol will flash.
Maximum charging time limit. The MCU precision timer will turn the charging current off to stop charging, ensuring safe and reliable use when the charging time is greater than the safe charging time.
Multiple protections such as overcurrent, overvoltage, overcharge, reverse connection, short circuit, etc., safe and secure to use.
With Type-C and Micro USB interfaces, it is convenient to choose and use.
Specifications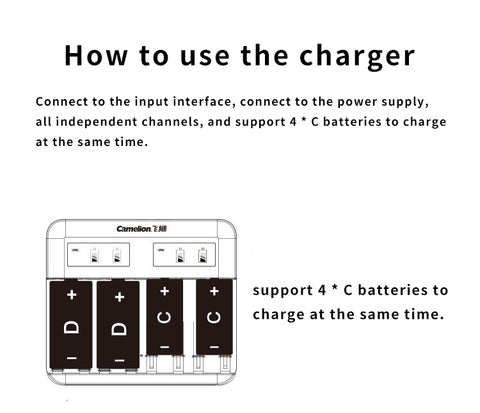 Receiving Your Package
Before signing for your package, please confirm that the product packaging is intact, the product accessories are complete, and the quantity is correct before signing. If you find any damage or issues with the product, please contact us within 7 days.
Your metaCat will arrive in standard cartons, and will be packaged with custom hard paper shells to firmly fix the products in place and prevent damage.
Returns
metaCat can be returned for a full refund, within 7 days of receipt for any reason, so long as the package remains unopened.
The customer is responsible for shipping freight and related costs for returning or exchanging the product to Elephant Robotics, excluding the shipping freight arising from product resending.
The customer is responsible for risks of product loss or damage during return shipping.
Question: How do I turn on the metaCat?
Answer: There is a three-stage-switch on the bottom of metaCat to turn it on, silence it, and turn it off..
Question: How do I replace the battery?
Answer: metaCat uses four C cell batteries and you can replace the battery from the bottom of the metaCat after removing the battery cover.
Question: How long is the battery life?
Answer: metaCat's battery life is 3-6 weeks depending on usage intensity.
Question: What's the recommend age for using metaCat?
Answer: MetaCat is designed to be a new family member. It's a suitable companion robot for all ages 3-110.
Question: How long will shipping take after I place my order?
Answer: MetaCat ships within two days after your order is placed. You will be supplied with a tracking number. Orders ship in standard cartons and special customized super hard paper shells to firmly fix the products and prevent damage from impact.